Mold Removal Bay Shore
With the potential for water damage from the turbulent nature of the Atlantic so close by, the chances for fungus contamination in Bay Shore homes is vastly increased, requiring the professional mold removal skills of Eli Elfasi and Daniel Gradus, the co-owners of 911 Restoration Long Island to be taken care of properly.
When mold is found in a home it is usually accompanied by a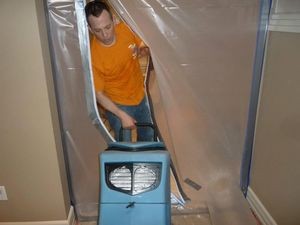 corresponding water damage problem too, and this is why Eli and Daniel's mold removal technicians will always respond within 45 minutes of any emergency call for help.
"We make sure that our teams are stationed and ready for anything at any time so that we can help save homeowners from breathing in tainted air," Daniel explains.
Quick and decisive action when mold is afoot means stopping it before the contamination can grow and spread which will only be more damaging and costly to repair.
To provide clients with the mold removal help they need in these situations, Eli and Daniels' teams are available 24/7/365 to eliminate any fungus infestation that your home or business may have.
Never let a fungus colony grow in your home as it may induce respiratory problems. Contact our mold removal experts with 911 Restoration Long Island today and let us solve all of your airborne spore elimination needs for you today!
Preventing Mold Just Means Maintenance in Bay Shore
Most of the time when Eli and Daniel take on a mold contamination job, they also find water damage accompanying it. This is usually the case because mold colonies need a regular supply of water in order to proliferate.
"To prevent mold from growing in most situations simply requires proper care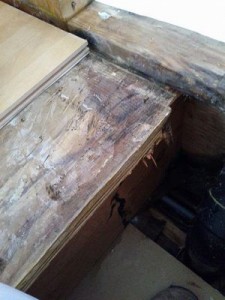 after a water damage event takes place," Eli says. "People need to make sure that any water that spills from a pipe burst or water heater failure, or even a toilet overflow, is properly soaked up and dried out."
Drying out an area and then using bleach to clean up afterwards is a solid method for mold eradication and this is why the 911 Restoration Long Island mold removal team suggests thorough cleansing after any such scenario takes place.
Additionally mold can be prevented from ever growing by avoiding the water damage situations that are its typical coaxers.
"Small drips from a poor fitting on the drain from a sink, or from a ruptured fitting or hose on an appliance can allow for mold growth to readily take hold," Daniel explains.
To prevent mold in these situations, simply check the status of these fittings and pipes to make sure that there are no small issues that may induce a mold situation.
Let our mold removal Bay Shore specialists with 911 Restoration Long Island provide you and your home with our free visual inspection to check for any mold growth that you may have today!
Removing Mold Involves Removing Stress through Restoration Excellence
Eli and Daniel know that when homeowners and businesses have a mold contamination that it can be a very stressful situation for them.
In an effort to eliminate that stress from their client's lives, Eli and Daniel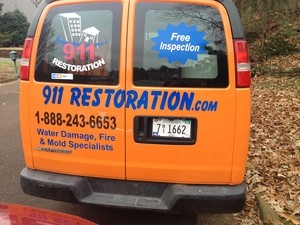 make sure to go the Extra Mile for people by providing them with help in temporarily relocating while the work is being done to make the air in their property safe to breathe again.
"We know that people in these situations have a lot on their plate to deal with, and because of this we try to eliminate as many stress causers as we can for them," Daniel says.
Eliminating the stress of clients in these events can simply mean doing the insurance paperwork for them so that they don't have to deal with the added stress of a mold contamination situation in concert with a mold removal conversation to their insurance provider.
"We do everything for our customers," Eli explains. "We don't just take care of the mold in homes, we take care of people so that they can get back to enjoying their homes."
Don't give mold from a water damage event the chance to grow in your home. Call our mold removal Bay Shore specialists with 911 Restoration Long Island and let them take care of all your fungus removal needs for you today!