Water Damage in Levittown
Between extreme weather patterns and normal property wear and tear, it is crucial to have a restoration company you can trust to provide water damage restoration in Levittown. 911 Restoration of Long Island employs experienced, skilled technicians that will help you with all of your water damage and mold concerns. As part of our commitment to you, we are available 24/7/365 at 516-206-4420 for flood damage restoration services in Levittown. You can contact us day or night, and our technicians will arrive within 45 minutes of receiving your call. The faster we respond, the better the chances are of minimizing your losses and saving you money.
When we arrive, our technicians will start the water restoration by giving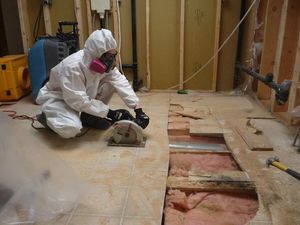 the property owner a free water damage and mold inspection. We want to make sure nothing goes overlooked so we can formulate an accurate estimate.
As a locally owned and operated restoration company, our technicians understand how the regional weather patterns impact homes and businesses. The humid subtropical climate makes water and mold issues prevalent in Levittown.
Our technicians are experts at both residential and commercial water damage and mold removal service in Levittown. It only takes 24 hours for stagnant water to turn into a mold infestation, which is why we always provide immediate flood cleanup in Levittown.
We will arrive, fully-equipped to perform same-day water removal, drying, and dehumidifying services. With so many years restoring homes from invading waters, our technicians know precisely what it takes to get your property clean and dry in a short period.
You can feel confident in our ability to handle even the most severe situations. 911 Restoration employs experienced, IICRC certified technicians that have reached the highest standards in the industry as set by the Institute of Inspection, Cleaning, and Restoration. Call us at 516-206-4420 and see how we can help you.
911 Restoration of Long Island will make sure you receive affordable, high-quality water damage restoration services from a trustworthy company. We are licensed, bonded, and insured to ensure your protection under all circumstances.
So, whether you experience basement flooding, pipe bursts, mold, or any other moisture-related issue, call us today! We will show you that a water disaster can turn into the Fresh Star you need!
911 Restoration Provides Comprehensive Water and Mold Remediation
Our experts' top priority is to make sure your property is entirely free of any moisture and mold. Upholding the structural integrity and indoor air quality is an essential part of the water restoration.
Once you call our office, we will dispatch technicians immediately. A fast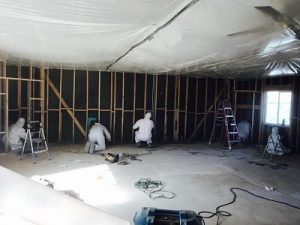 response is not only critical to the recovery process, but to achieving customer satisfaction.
We will put your mind at ease by quickly containing your water damage emergency and executing a flood cleanup strategy. Our repair techs will pinpoint the main entry point of the invasive water to stop the damage at the source.
The use of progressive thermal imaging equipment enables us to detect lingering moisture in areas beneath floors, wall cavities, and ceilings. We use infrared leak detection technology that allows us to find all these traces of hidden moisture.
Trapped water inside walls and ceilings can escalate into a full-blown mold infestation within a matter of days. When the humidity in Levittown increases, so does the likelihood of mold. Our technicians understand that mold removal is essential to water damage restoration, and we will check every corner of the property to ensure we eradicate all traces of an infestation.
The drying and dehumidifying procedures are vital to preventing future instances of mold and mildew. With the help of advanced technology and high-powered equipment, our work is consistently thorough and efficient.
We want to make your property safe, comfortable and restored to even better than new condition. So, call 911 Restoration of Long Island today to receive help from a team that cares and understands what you need from a flood cleanup company! call 911 Restoration of Long Island at our number 516-206-4420
We Will Guide You Through Every Step of the Water Mitigation Process
911 Restoration of Long Island makes a point to keep customer service our main priority. Our staff will do whatever we can to make you feel comfortable the entire time our technicians are on the job.
We assign you an experienced project manager who has years of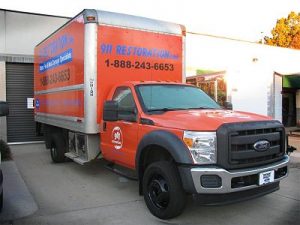 knowledge in the restoration and insurance industry. This professional will make sure to answer all of your questions and address your concerns.
We also act as the middle-man between you and your insurance agent. 911 Restoration offers free insurance consultations to ensure you fluently understand your coverage.
It can be challenging to figure out your insurance policy, especially if you have never filed a claim before. To make the submissions process go smoothly, you can depend on us to directly bill your provider and file your claim for you.
You will receive the most coverage by providing your insurance company with as much information about the property damage as you can. Our onsite technicians will assist you with this step by helping you take inventory of your losses for your provider.
If, for some reason, your insurance policy does not cover your water damage, there is no need to worry. 911 Restoration of Long Island consistently offers competitively priced services for both water mitigation and mold decontamination.
From the water damage restoration to the financial logistics, you can rely on our team members to help you with all the details. So, get the restoration process started by calling 911 Restoration of Long Island today! call us 516-206-4420
Servicing the cities of Albertson, Amityville, Atlantic Beach, Babylon, Baldwin, Bay Shore, Bayville, Bellmore, Bethpage, Bohemia, Brentwood, Brightwaters, Brookville, Carle Place, Cedarhurst, Centereach, Centerport, Central Islip, Cold Spring Harbor, Commack, Copiague, Deer Park, Dix Hills, East Farmingdale, East Garden City, East Islip, East Massapequa, East Meadow,, East Northport, East Norwich, East Rockaway, Elmont, Farmingdale, Floral Park, Franklin Square, Freeport, Garden City, Glen Cove, Glen Head, Glenwood Landing, Great Neck, Greenlawn, Greenvale, Hauppauge, Hempstead, Hewlett, Hicksville, Holbrook, Huntington, Inwood, Island Park, Islandia, Islip, Islip Terrace, Jericho, Kings Park, Lake Grove, Lake Ronkonkoma, Laurel Hollow, Lawrence, Levittown, Lindenhurst, Locust Valley, Long Beach, Long Island, Lynbrook, Malverne, Manhasset, Massapequa, Massapequa Park, Melville, Merrick, Mill Neck, Mineola, Mt. Sinai, Nesconset, New Cassel, New Hyde Park, North Babylon, North Massapequa, Northport, Oakdale, Oceanside, Old Bethpage, Old Westbury, Oyster Bay, Patchogue, Plainview, Point Lookout, Port Washington, Rockville Center, Ronkonkoma, Roosevelt Roslyn, Roslyn Heights, Salisbury, Sayville, Sea Cliff, Seaford, Smithtown, Sound Beach, South Farmingdale, South Huntington, St. James, Stony Brook, Syosset, Uniondale, Valley Stream, Wantagh, West Hempstead, Westbury, Williston Park, Woodmere, and the surrounding areas.