Water Damage in Hempstead
The extreme weather patterns in Hempstead make homes and businesses susceptible to water damage and mold. The high annual precipitation and humidity make it crucial for you to have a flood cleanup company standing by that you can trust. 911 Restoration of Long Island is ready 24/7/365 to conduct water damage restoration in Hempstead. Since water damage emergencies like pipe bursts or flooded basements can escalate quickly, our technicians guarantee to arrive within 45 minutes of receiving your call. Once onsite, we will begin the water restoration process by giving the property owner a free water damage and mold inspection.
Our technicians always check for moisture and mold problems, since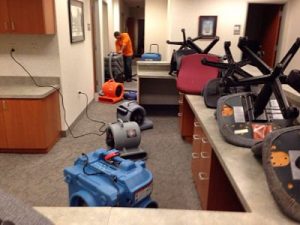 both issues tend to go hand-in-hand. You can count on us to provide comprehensive water and mold remediation services, ensuring that nothing goes overlooked.
If left untreated, standing water can cause a mold infestation in as short as 24 hours, especially in Hempstead's humid climate. These elements not only affect the structural integrity of the property, but they can influence your health, as well.
Our staff understands the unique needs of the Hempstead community. As a locally owned and operated restoration company, we have experience dealing with the regional weather patterns and know-how they impact homes and businesses in the area.
Cities that are surrounded by bodies of water are more prone to water damage, and as a result, require fast, efficient water damage restoration. During the cold season, ice dams and snowstorms are frequent, while the spring and summer bring thunderstorms and hurricanes.
You can trust us to handle even the most extreme circumstances. 911 Restoration of Long Island employs experienced, IICRC certified technicians that are experts at residential and commercial flood cleanup in Hempstead.
There is no water damage emergency too big for us to tackle. So, call the team that cares and understands what you need from a restoration company. We will turn your water disaster into a Fresh Start today!
Full-Service Water Damage and Mold Remediation
Due to Hempstead's high precipitation and humidity rate, the possibility of water damage escalating into a mold problem is high. To prevent infestations, our technicians will respond fast to eradicate all water and mold damage from the premises.
Even if you're not experiencing a water damage emergency, there may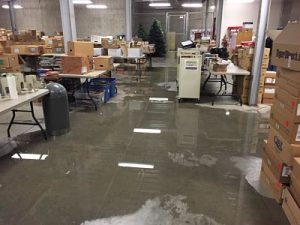 be hidden problems contributing to structural damages and mold.
The faster you receive leak repairs and flood cleanup services, the more likely you will minimize the property damage and reduce the chances of mold growth.
We will use infrared leak detection technology to make sure we find all the moisture spots on the property, making the mold removal even more successful.
911 Restoration only uses the most advanced water extraction, drying, and dehumidifying technology to eliminate all moisture and mold from the affected area. When our technicians arrive at a job, we always bring our top-of-the-line gear, because we want to complete the water damage restoration the first time around.
We know to focus on mold removal, not only because of its potential to reproduce but because of the health risks an infestation poses. Inhaling mold spores can cause you to experience allergies and respiratory issues.
By offering comprehensive water restoration, you can rest assured that our technicians will address every aspect of your situation. Your satisfaction is our ultimate goal, so call 911 Restoration of Long Island to receive peace of mind today!
Customer Service is an Essential Part of the Water Restoration
Keeping you feeling safe and secure during the water damage restoration is just as vital to our technicians as providing the water mitigation services. We understand the challenges that come with dealing with basement flooding, pipe bursts, and other kinds of water damage.
To make the process easier, 911 Restoration of Long Island consistently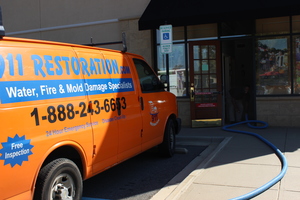 keeps prices competitive and accepts all types of insurance.
The majority of water disasters are covered by homeowner's insurance, as long as outside forces or negligence are not found responsible for the flood damage.
If you have any questions or concerns about the submissions procedures, we will provide you with a free insurance consultation. Our staff members will also directly bill your insurance provider and file your claim for you.
We will handle the entire claims process, so you don't have to worry about a thing. Even if, for some reason, your provider does not cover the required flood cleanup services, you can trust that we offer affordable, high-quality services.
911 Restoration wants to keep your out-of-pocket expenses as minimal as possible. By providing your insurance company with an itemized list of your losses, you will receive the financial aid you deserve.
So, if you find yourself wading through a flooded basement or grasping to stop a pipe burst, call 911 Restoration of Long Island. We will show you that with professional water damage restoration, a Fresh Start is possible today!
Servicing the cities of Albertson, Amityville, Atlantic Beach, Babylon, Baldwin, Bay Shore, Bayville, Bellmore, Bethpage, Bohemia, Brentwood, Brightwaters, Brookville, Carle Place, Cedarhurst, Centereach, Centerport, Central Islip, Cold Spring Harbor, Commack, Copiague, Deer Park, Dix Hills, East Farmingdale, East Garden City, East Islip, East Massapequa, East Meadow,, East Northport, East Norwich, East Rockaway, Elmont, Farmingdale, Floral Park, Franklin Square, Freeport, Garden City, Glen Cove, Glen Head, Glenwood Landing, Great Neck, Greenlawn, Greenvale, Hauppauge, Hempstead, Hewlett, Hicksville, Holbrook, Huntington, Inwood, Island Park, Islandia, Islip, Islip Terrace, Jericho, Kings Park, Lake Grove, Lake Ronkonkoma, Laurel Hollow, Lawrence, Levittown, Lindenhurst, Locust Valley, Long Beach, Long Island, Lynbrook, Malverne, Manhasset, Massapequa, Massapequa Park, Melville, Merrick, Mill Neck, Mineola, Mt. Sinai, Nesconset, New Cassel, New Hyde Park, North Babylon, North Massapequa, Northport, Oakdale, Oceanside, Old Bethpage, Old Westbury, Oyster Bay, Patchogue, Plainview, Point Lookout, Port Washington, Rockville Center, Ronkonkoma, Roosevelt Roslyn, Roslyn Heights, Salisbury, Sayville, Sea Cliff, Seaford, Smithtown, Sound Beach, South Farmingdale, South Huntington, St. James, Stony Brook, Syosset, Uniondale, Valley Stream, Wantagh, West Hempstead, Westbury, Williston Park, Woodmere, and the surrounding areas.