Commercial Water Damage Restoration in Long Island
Commercial properties in Long Island are becoming exposed to destructive elements like powerful wind, torrential rain, storm surges, and flooding more frequently than ever, causing owners to begin taking even more precautions when it comes to preparedness.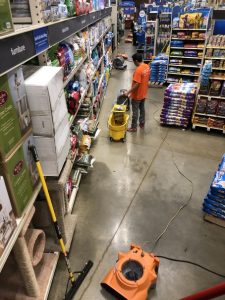 When a hurricane or rainstorm causes your property to become overwhelmed with floodwater, then you need to be able to turn to a company that you can trust to extract the water and make the repairs quickly.
The 911 Restoration staff takes quick service very seriously, which is why we stay available 24/7/365 to take your call. Once we determine your emergency, we send technicians to your business, guaranteeing that they will arrive within 45 minutes.
We always bring the most advanced drying technology and water removal equipment with us to every job, that way we can provide same-day services for your water disaster. We are trained to remediate damages from hurricanes and other scenarios that include:
Mold infestation cleanup

Sanitization after toilet overflow

Water heater leak repair

Fire sprinkler repair

Moldy crawlspace cleanup

Water extraction in a flooded basement

Restoration of pipe bursts

Comprehensive mold and water damage repair

Repair of ruptured washer hose
If your building is submerged in water, do not wait to call our commercial property damage team in Long Island. We will work with IICRC certified technicians to provide a free visual property inspection, so give us a call today!
Hurricane Preparedness
Making sure your business is sturdy enough to withstand a hurricane is becoming more of a necessity every year. With hurricanes devastating Long Island at an alarming rate, property owners literally have to prep all year round just in case another big one strikes.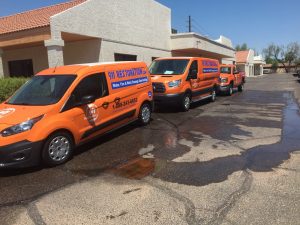 There are limited ways you can protect your commercial property from the heavy rain and powerful wind that a hurricane generates, but there are some steps you can take to protect your commercial property.
By simply cleaning out the gutters, repairing any cracks in the foundation, and sealing around your doors and windows you can prevent water from leaking inside and causing water damage.
You should also move any outdoor furniture or possessions inside to stop them from becoming airborne and crashing through windows. Flying debris can also damage the side of your property because the wind can generate enough speed to cause structural damage.
Storm shutters can be installed to protect your windows and sliding glass doors from becoming broken during a hurricane. You can buy some or make your own from exterior grade or marine plywood that is at least five-eighths of an inch thick.
Set up sump pumps in your basement to prevent flooding. They will turn on once they sense any moisture and will begin extracting water from the premises. Also, make sure that your drainage system is clear of debris to allow the floodwater to drain out of the area properly.
Even if you maintain your commercial property to the best of your ability, you can still incur water damage and structural issues from a hurricane. So, call 911 Restoration Long island when you need hurricane damage restoration services and we will respond quickly to get your business up and running again as soon as possible.
Understanding The Best Type Of Insurance For Your Commercial Property
Purchasing insurance for your commercial property is important to keep you and your business protected in the event of a disaster, such as a hurricane or other event.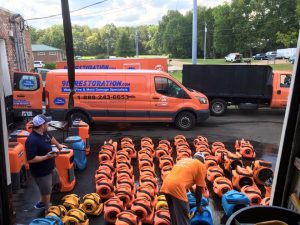 Each insurance policy varies and depending on where you live different factors can determine the cost and the coverage offered to you.
If you live in an area prone to experience flooding events then you should highly consider purchasing flood damage insurance. Most standard policies do not cover floods that have occurred from outside sources, such as from a nearby water source that has overflowed or a major storm.
Supplemental flood insurance is an extra expense that will save you tons of money later on down the line if your commercial property does become affected by a flood. Just make sure you make your purchase as soon as possible because most policies do not kick in until 30 days after you buy the policy.
Wind damage is another issue that may not be covered in your standard insurance coverage. Since wind plays is a major factor in hurricane damage, you may need to purchase a separate policy to cover all your bases.
Our commercial property damage staff in Long Island is here to answer any question you may have about insurance policies or anything else, so give us a call today.