Water Damage in Long Island
Long Island has felt the brunt of many tropical cyclones over the years, with Hurricane Irene and Hurricane Sandy being two of the most recent and devastating storms.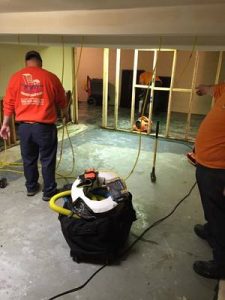 Property owners are aware of how susceptible their homes and businesses are to experiencing water damage. The heavy rainfall and powerful winds can cause basement floods and water leaks, issues that 911 Restoration of Long Island can mitigate on a moment's notice.
The years of experience the flood cleanup company has at implementing water damage restoration services have given their technicians the expertise needed to restore a property from any water disaster fully.
The Long Island branch is open 24/7/365, making it possible for repair workers to enact emergency storm repairs within 45 minutes of receiving your call. Once they arrive, a technician will provide the property owner with a free visual inspection to determine the extent of the water damage restoration needed.
Pipe burst emergencies are another issue that can arise from severe weather patterns. Frozen pipes can occur during cold spikes, and torrential rainfall can flood sewer systems and crack old pipes, creating property floods.
The professionals can provide flood cleanup services to those living in Long Island, Hempstead, and other neighboring cities. So, call 911 Restoration of Long Island to receive complete water extraction, drying, and dehumidifying services today.
Prevent Pipe Bursts And Water Damage
During the cold months, freezing temperatures can cause pipe bursts that can lead to gallons of water flooding the inside of your property.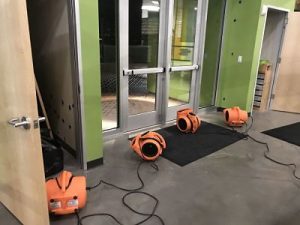 This type of flooding can be disastrous to a home or business, which is why it is crucial to take preventative measures before the winter season to protect your property. 
To prevent pipes from initially freezing, you can open up all the faucets in the property and allow a trickle of water to run through the plumbing system continually.
If you start noticing that specific pipes are getting too cold, you can wrap insulation sleeves around the most exposed pipes. You can also use towels soaked in boiling water. You can also use the heat from a hair dryer, heat lamp or space heater to slowly remove frost from the pipes.
Even if you take steps to safeguard your property, a pipe burst can still occur. So, to immediately stop the influx of water, you can shut off the main water supply line to the property, limiting the severity of the flood.
If your basement becomes flooded or you realize there are frozen pipes in your property, call the flood cleanup team and they will implement same-day, water damage restoration services the moment you need assistance.
Professional Flood Cleanup Services
911 Restoration of Long Island wants all of its customers to feel like they are their main priority, which is why they are equipped to provide comprehensive water damage restoration services.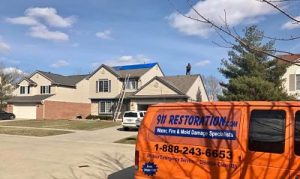 Customers can trust that we can handle all kinds of water damage, from basement floods to sewage removal.
The repair techs maintain professionalism throughout the water mitigation process and keep themselves available to answer any questions you may have.
Our services include assisting customers with their insurance policy. We provide free insurance consultations, which consists of an analysis of the coverage you are entitled to receive.
Staff members will even file your insurance claim for you, allowing you to focus on other things during the water removal and repair process.
911 Restoration of Long Island is the full-service restoration company you can trust to implement, around-the-clock, water damage restoration services. So, call the highly trained technicians today, and they will provide you with the Fresh Start you deserve.