Water Damage in Long Island
911 Restoration Long Island
Having the ability to turn a disaster in a fresh start is what drives the team at 911 Restoration of Long Island. The water restoration company wants to help the community to the best of their ability, whether it be by providing water damage, mold removal or fire damage restoration services.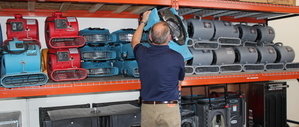 The branch owners Eli and Daniel aim to expand the fresh start state of mind to as many property owners in Long Island. Call us at (516) 206-4420 and allow us to offer you a free visual inspection.

Having the capacity to make people feel calm and collected while dealing with a sewage-related cleanup or any other water damage issue is their primary concern because they understand just how overwhelming it can be to wake up to a flooded basement or come home from work to find kitchen ceiling water damage.
When you contact 911 Restoration of Long Island, the office agents will listen to you and immediately begin to figure out a game plan. We never want to make you feel like you have to wait for assistance, especially when water is involved, so the flood cleanup company guarantees to have repair workers arrive within 45 minutes of receiving your call.
911 Restoration of Long Island is available 24/7/365 to take your call regarding a sewage overflow, mold infestation, or fire damage. Keeping your wellbeing intact throughout the entire restoration process is important to us, and we will do whatever it takes to keep you satisfied every step of the way.
Don't allow a flooded basement to ruin your day! Call the water mitigation experts today, and they will provide you with the flood cleaning services you need to make a full recovery.
Water Damage Restoration
911 Restoration of Long Island is standing by implement 24-hour emergency water clean up services the moment you need assistance. Their highly trained technicians will give you the peace of mind you deserve, no matter what type of water damage removal you need.
Whether you own a residential or commercial property, you can feel confident in our ability to get your home or business back up and running again in no time. When the professionals arrive, they will provide property owners with a free visual inspection, so they can get to work as soon as possible.
The repair workers will use powerful water extraction techniques to remove invasive water and use air movers and dehumidifiers to completely dry the area to prevent the need for mold removal services. They also use eco-friendly cleaning agents to remove any dirt or junk and professional equipment to repair the source of the water damage to prevent future issues from popping up.
The most common side effect of unmitigated water damage is mold growth, but mold removal can easily be avoided by reaching out for water cleanup services immediately upon discovering an issue. Contact 911 Restoration of Long Island the moment you discover a water leak in your basement and your property will soon be looking like new again! Call us at (516) 206-4420 and see how we can help.

Service area map
Sanitization Services & Disinfection Solutions
Thanks to its global spread, the coronavirus has left its mark on everyone's daily lives. At this point, every single business and person has been negatively impacted. For this reason, we all need to do our part to work towards a solution. Fortunately, this can start with something as simple as maintaining our personal hygiene.
Property owners can contribute further in their efforts by ensuring their buildings remain sanitized according to protocols. With these protocols, the people who come and go will stay as protected as possible. For this reason, 911 Restoration of Long Island is ready and willing to deliver sanitization services in addition to various disinfection solutions for both residential and commercial properties. Our technicians stay on top of their training to maintain full compliance with all current CDC and EPA protocols in an effort to deliver optimal results with our sanitization services. You can count on us to deliver peace of mind because we won't settle for anything less than our best effort.
Frozen Pipes and Flooded Basement
Cold spikes can quickly cause pipes to freeze, which can end up leaving you with a flooded basement and excessive water damage.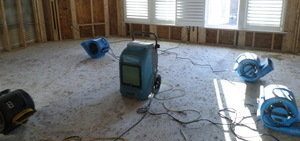 Frozen pipes can easily crack and burst, allowing gallons of water to flood your basement. Immediate water removal is the only way to salvage your possessions and limit destructive water damage from occurring.
It is necessary to disinfect the basement floor after a flood has occurred because the water that invades the room can be filled with bacteria and other toxins that have the potential to be harmful to your health.
The Long Island professionals will not only clean up your flooded basement, but they will deal with the frozen pipes by repairing the damage and offering prevention tips.
By hiring the technicians at 911 Restoration of Long Island, you can be sure that your flooded basement will be a safe, healthy place for you to enjoy again. Call us at (516) 206-4420 for the flood restoration service you need to get back on track today.
Mold Removal
If a flood cleaning job is not done correctly, then you may experience mold growth from the increased moisture levels in your property, requiring mold removal services.
Mold infestations can affect your health and often cause people to experience allergies and breathing issues. When it comes to mold in your house, the exposure risk is high, which is why you should reach our for mold removal services the moment you discover signs of an infestation.
When moisture is left to sit in these areas, then spores can run rampant, causing mold on walls, the ceiling, and even underneath the floorboards. Excess moisture will result in mold growth in as little as 24 hours after a basement flood.
Professional mold removal services will give to peace of mind knowing that every trace of mold will be exterminated from your home or business. By hiring the mold removal technicians, you will be able to return to your property knowing that it is a safe place for everyone.
If your property begins to smell musty after a recent flood or water damage incident, contact the mold removal specialists right away!
Sewage Cleanup
There are different kinds of water damage, with black water being the most dangerous. Black water is sewage and is filled with toxins, bacteria, and waste material that can be hazardous to your health.
You deserve a restoration company that knows what they are doing when conducting sewage removal and 911 Restoration of Long Island is that company.
By calling us the moment the sewage overflow occurs, you can be sure that not you nor anyone else will be affected by the toxic substance.
The safest way to handle a sewage spill is by contacting us right away and completely staying away from the affected area. Protecting yourself should include blocking off the area so no adult, child, or pet can come into contact with the toxic water.
There is no need to risk your health when you need sewage cleanup services because our professionals have all the gear required to remove the waste safely. We will wear protective clothing and use cleaning equipment that keeps us safe throughout the process. 
The sewage backup cleanup services you deserve are only a phone call away, so contact 911 Restoration of Long Island today at (516) 206-4420.
Fire Damage Restoration
On top of water extraction and mold eradication services, 911 Restoration of Long Island also offers fire damage restoration, which includes ash cleanup, odor elimination, and smoke stain remediation.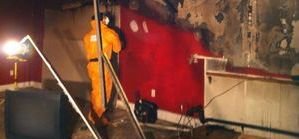 When a fire occurs, even if it is only a small kitchen fire, it has the potential to have a significant effect on your property with the smoke and ash that is disbursed.
For example, soot, a byproduct of charred material, will eat away at organic material. The tar-like substance can stain and ruin the home's interior and items inside. Smoke can also damage the property and create a foul odor that will not dissipate on its own.
To receive the best fire damage restoration services, you need a keen knowledge of our technicians. You are entitled to a free fire damage estimate, so when the repair workers arrive, they will give you a full inspection. The fire damage unit will also address any flood damage that was created by the fire department while extinguishing the flames, which can be quite excessive.
Not only will the experts restore your property, but by removing the smoke and fire damaged materials, your household will continue to be a safe place to live. Contact 911 Restoration of Long Island after you experience a fire in your home or business and we will show you how to turn that experience into a fresh start.
Disaster Restoration
There are a lot of issues that can occur when a disaster happens, which is why you deserve a team that can offer comprehensive repair services when you hire a restoration company. For complete resolve in a disaster scenario call 911 Restoration Long Island. The disaster restoration technicians can address everything, from flood cleaning to fire damage restoration services.
We understand how overwhelming it is to be faced with a full-blown disaster in your property, so once the disaster repair unit arrives, their top priority is to make sure your wellbeing is intact. The technicians make an effort to cater to the emotional side of a disaster as much as they do for your property. Therefore, they do all they can to make sure you feel confident in our ability to remediate the situation.
On top of repairing your property after a disaster, we will also file your insurance claim for you as well. It's understandable that it can be confusing to understand your policy, so staff members will go over your policy with you to make sure you get the proper coverage.
We want to make this whole process as easy for you as possible. So, if your property has recently been affected by a property disaster, call 911 Restoration of Long Island today at (516) 206-4420!