Water Damage Floral Park
Water damage is a leading cause for mold growth and structural damage in homes that must be addresses right away, which is why our water damage Floral Park company of 911 Restoration Long Island is available 24/7/365 ready to fight the sting of household flooding, and our mold removal Floral Park specialists offer fast same day service. Water damage and mold are never far apart.
Our water extractions experts are also certified to perform the best mold removal services in Floral Park and the entire region and we pride ourselves on offering water cleanup with any other major restoration service you may need.
Scenarios that lead to mold include: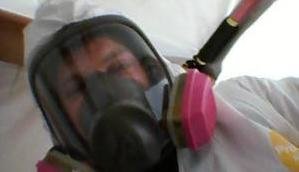 Pipe burst
Water heater leak
Ruptured hoses
Washer burst
Roof leak
Fire sprinklers
Toilet overflow
Rain storms
When you have a pipe leak in your walls there is a good chance you also have a mold colony. This is why it is important to get professional help right away, and why our water damage Floral Park crew members respond within 45 minutes of all calls.
Our water damage Floral Park experts urge customers to perform routine maintenance in order to lower their risk of suffering from one of these causes for mold.
In addition, installing some sump pumps in your basement and crawl space will help fight water damage and mold when Mother Nature decides to shower the state with rain storms.
Don't just wonder if your water damage problem will cause mold; call our water damage and mold removal Floral Park company and let us restore everything to a state of good health!
Water Damage Positively Causes Mold
Water damage is a leading cause for mold, and when you call our water damage Floral Park team to come to your home we will use the latest drying technology to ensure no moisture is left behind to foster mold growth.
Then, as the mold gains momentum and spreads, it will begin to materialize in plain sight. Our mold removal Floral Park specialists warn homeowners that signs of mold in the home include:
Black or pink spots on the walls
Moldy odor in the home
Recent water damage
Dampness in the air throughout the house
Coughing
Itchy skin and eyes
Headaches
When water damage occurs in the home outdoor spores can enter your living space and settle on damp areas high in moisture. In most cases black mold growth originates from areas not visible such as inside drywall, under carpets, and inside ceilings.
Our water damage Floral Park technicians have responded to hundreds of calls requiring immediate water removal in which older water damage problems were discovered like a pipe leak under the sink or inside the walls.
As a result mold formed and health risks were posed. Exposure to mold can cause lung disease, asthma, congestion and in some cases even death. If you experience ruptured hoses flooding your laundry room or a rain storm causes your roof to leak don't risk the health of your family!
Call our water damage Floral Park professionals with 911 Restoration Long Island and we will even file your water damage claim to your insurance company for you!
Water Damage Coverage And Insurance Questions

According to research conducted by our water damage Floral Park experts through the Insurance Information Institute most water damage incidents are covered by insurance as long as an outside force is not to blame.
For example, if rain storms flood your home, you would need a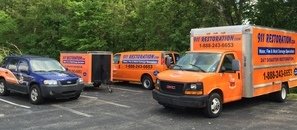 supplemental policy through a private carrier to cover the damage. Additionally, if negligence is a culprit you would also face getting a claim denied.
When we launch our water removal technicians to perform emergency water damage restoration services we know time is a huge factor in preventing expensive repairs.
When standing water resides in your home your drywall and hardwoods can absorb it like a sponge. When this happens stress fractures can form and cause thousands in repairs.
Our water damage Floral Park techs report that a clogged gutter and a broken sewage backflow valve are two primary causes for homeowner negligence that results in water damage and the need for our mold removal Floral Park pros to come in and mitigate the spores.
When it comes to protecting your home and family from mold and household flooding you deserve the best, so call our water damage Floral Park team with 911 Restoration Long Island right away!