Water Damage Glen Cove
Water damage is a destructive force that causes mold and must be treated right away, which is why 911 Restoration Long Island and our water damage Glen Cove company is available 24/7/365 ready to spring into action when you have a pipe burst flood your room or rain storms rip holes in your roof.
Our water damage Glen Cove experts love to educate customers on how they can prevent water damage and mold from occurring in the home. The most common causes for household flooding includes:
Pipe burst
Pipe freeze
Toilet overflow
Washer burst
Ruptured hoses
Roof leak
Water heater leak
Rain storms
Our 911 Restoration Long Island team and mold removal Glen Cove experts will respond within 45 minutes of your call because we value professionalism, and this means we get there fast before your hardwoods and drywall absorb water and cause stress fractures to form and mold spores.
When we perform our water damage restoration services we do so offering same day service and we use the finest restoration techniques in the industry.
This way we can rescue your home while there is still time and perform high quality work ensuring the job gets done right the first time with zero chance of mold forming, so contact our water damage Glen Cove team with 911 Restoration Long Island for help today!
Water Damage Causes Mold
According to our water damage Glen Cove specialists, mold is a leading result of water damage in the home. A pipe leak can go undetected for months, and by the time our team of mold removal Glen Cove experts go inside your walls, a colony of black spores can already be festering.
Our water damage Glen Cove professionals want for every home and business in the area to stay safe, and this means you need to perform maintenance to keep water out of your home. Furthermore, our mold removal Glen Cove experts say you can drastically minimize your chance of getting mold by performing the following:
Clean out your gutters
Aim downspouts away from home
Ensure landscaping doesn't slope into the house
Check pipes for leaks and cracks
Install sump pumps in crawlspace and basement
If floor is level to the land raise it by a few inches
Don't plant trees within 10 feet of water line
Check appliance hoses
Our mold removal Glen Cove experts want to help families minimize their exposure to a potential mold problem, and since water damage can cause mold growth it is best to start by addressing potential problem areas.
Our water damage Glen Cove crew members also suggest you inspect your rook for curled, cracked or missing shingles and have your roof repaired if the need is there. When mold is present your family members are at risk. Black mold is known for causing congestion, lung infections and asthma.
Don't let your home fall victim to the effects of a water invasion without help from the best. Contact our water damage Glen Cove team with 911 Restoration Long Island and let our experts handle all of your needs today!
Costs Related To Water Damage Restorations

Our water damage Glen Cove company will give you a low cost on water damage restoration services because we believe money should never prevent a family from getting the help they need.
Immediate water extractions are a necessity during sewage back up, rain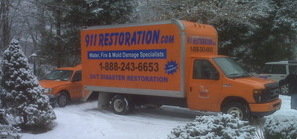 leaks from storms, and any time your crawlspace floods.
Knowing this, 911 Restoration works with all insurance companies so we can file your water damage claim correctly and get it covered. This will keep the cost down and will ensure your home's safety.
We even conduct research through the Insurance Information Institute so that we can help you deal with your homeowner's insurance.
For example, if a flood from rising rivers or a flash flood causes your water damage you will likely need a supplemental plan through a private insurer to cover the damage.
But our mold removal Glen Cove technicians offer a free inspection and our water removal experts will search the entire home and offer an affordable price, so even if your claim gets denied we can work with you.
When it comes to your home and family you deserve the best in the industry, so make sure to contact our water damage Glen Cove team with 911 Restoration Long Island for help today!