Water Damage in Oceanside
With a varied fluctuation of rainfall and the constant rise and drop of humidity, there are plenty of ways in which a home or business in Oceanside can experience water damage. Whether you discover water leaks, pipe bursts, or basement floods, fast action is crucial in the recovery process. Our team always acts with urgency, guaranteeing to arrive within 45 minutes, no matter what time you call. Our office is open 24/7/365, so you can contact us the moment you need water damage restoration in Oceanside. We will not hesitate to begin the restoration work by giving the property owner a free water damage and mold inspection. This initial assessment will allow us to formulate an estimate of the necessary services.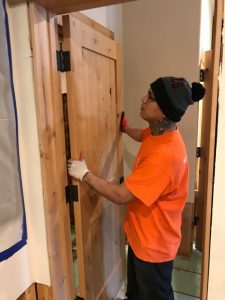 Our entire flood cleanup company is licensed, bonded, and insured to provide you with the best restoration services in the industry. You can feel confident that we will protect you in full under all circumstances.
Same-day services are the best way to minimize your losses and reduce the chances of mold. It only takes 24 hours for moisture to spark a mold infestation, which is why our repair techs focus on getting you fast and efficient water mitigation.
Unlike other water restoration companies, 911 Restoration of Long Island specializes in both water damage restoration and mold removal. These two issues are typically found together in Oceanside due to the high precipitation levels in the region.
Since we are locally owned and operated, our staff members are experts at mitigating the specific water and mold issues that impact Oceanside. We have years of experience working in humid subtropical climates and understand how the regional weather patterns influence homes and businesses.
You can trust our technicians to provide water and mold remediation in both residential and commercial properties. We will check every corner of the property to ensure nothing goes overlooked.
Call 911 Restoration of Long Island the moment you discover signs of water damage or mold on your property. Our technicians will give you peace of mind by conducting the water damage restoration with professionalism and positivity.
Professional Flood Cleanup Will Minimize Structural Damage and Mold Growth
The worst time to discover a water leak is during a storm. The excessive rainfall can expose cracks and imperfections in the roof and foundation that can lead to indoor water damage and basement flooding.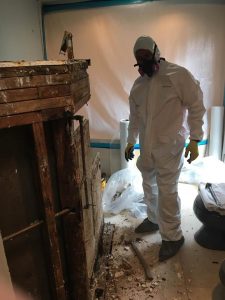 Sometimes a small leak may not seem like a big deal, but even minimal water damage can turn into a significant problem. Invasive moisture can create wood rot, rust, and mold in as short as 24 hours.
The high humidity and moisture levels in Oceanside make mold growth prevalent. We implement water mitigation techniques that involve mold decontamination, so we address every aspect of the water damage.
We extensively train our repair workers so you can feel confident that we are prepared for any situation, no matter how severe the circumstances. Our fast and thorough water damage restoration will save your property from considerable destruction.
By calling 911 Restoration of Long Island, you can curb the water damage and reduce the chances of mold. We will inspect the property to outline the extent of the damage so we can create an informed flood cleanup strategy.
Heavy rainfall is typical in Oceanside, and the high precipitation frequently leads to regional flooding. This extreme weather can end up creating a flooded basement, which results in gray water filling up the underground space. Gray water is not as toxic as black water, also known as sewage, but it is potentially hazardous.
When outdoor moisture invades your property, it puts you at risk of becoming exposed to bacteria, animal waste, and other contaminants. Our technicians are capable of safely navigating hazardous waters.
We will immediately contain the water damage emergency by initiating water removal, drying, and dehumidifying procedures. Our professionals know that a water disaster can occur at any time, which is why we make ourselves available to conduct same-day flood cleanup in Oceanside.
We emphasize customer service and understand that a fast response will save you time and money. When you are in need of water restoration or mold removal services, do not hesitate to call 911 Restoration of Long Island. We will respond quickly to give you the peace of mind you need to get through any disaster.
911 Restoration Offers Free Inspections, Estimates, and Insurance Consultations
There are times when it is not possible to determine the full extent of the water damage by visually inspecting the property. Mold inside walls, internal plumbing problems, roof damage, and water leaks in basements can easily go overlooked until the problem is too big to miss.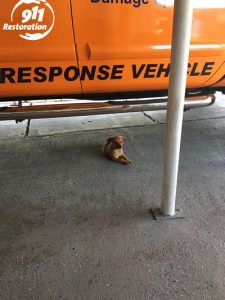 911 Restoration of Long Island wants to make it easy for you to receive professional services, even if you are unsure about the severity of the water damage.
We make this assistance possible by offering free water damage and mold inspections. By providing no-cost assessments, you can reach out for help without worrying about taking a financial risk.
We understand that you need information about the water cleanup cost to put your mind at ease. Our onsite technicians can provide these details after they conduct the free inspection.
By checking the property for leaks, flood damage, and mold growth, our technicians can formulate an accurate, free estimate of the water damage restoration needed to recover your home or business entirely.
911 Restoration of Long Island goes beyond just the restoration work. Our mission is to provide you with a Fresh Start, and our team members will do whatever is possible to achieve that goal.
We offer free insurance consultations to ensure you understand your policy inside and out. Our staff will directly bill your insurance provider and submit your claim for you, so you get the financial aid you are entitled to receive.
The more information your insurance provider gets, the more coverage you will receive. Our onsite technicians will document all the damage done to both your property and belongings.
When you call 911 Restoration of Long Island, you will receive help from a team that cares and understands what you deserve from a restoration company. We will show you that a Fresh Start is possible today!
Servicing the cities of Albertson, Amityville, Atlantic Beach, Babylon, Baldwin, Bay Shore, Bayville, Bellmore, Bethpage, Bohemia, Brentwood, Brightwaters, Brookville, Carle Place, Cedarhurst, Centereach, Centerport, Central Islip, Cold Spring Harbor, Commack, Copiague, Deer Park, Dix Hills, East Farmingdale, East Garden City, East Islip, East Massapequa, East Meadow, East Northport, East Norwich, East Rockaway, Elmont, Farmingdale, Floral Park, Franklin Square, Freeport, Garden City, Glen Cove, Glen Head, Glenwood Landing, Great Neck, Greenlawn, Greenvale, Hauppauge, Hempstead, Hewlett, Hicksville, Holbrook, Huntington, Inwood, Island Park, Islandia, Islip, Islip Terrace, Jericho, Kings Park, Lake Grove, Lake Ronkonkoma, Laurel Hollow, Lawrence, Levittown, Lindenhurst, Locust Valley, Long Beach, Long Island, Lynbrook, Malverne, Manhasset, Massapequa, Massapequa Park, Melville, Merrick, Mill Neck, Mineola, Mt. Sinai, Nesconset, New Cassel, New Hyde Park, North Babylon, North Massapequa, Northport, Oakdale, Oceanside, Old Bethpage, Old Westbury, Oyster Bay, Patchogue, Plainview, Point Lookout, Port Washington, Rockville Center, Ronkonkoma, Roosevelt Roslyn, Roslyn Heights, Salisbury, Sayville, Sea Cliff, Seaford, Smithtown, Sound Beach, South Farmingdale, South Huntington, St. James, Stony Brook, Syosset, Uniondale, Valley Stream, Wantagh, West Hempstead, Westbury, Williston Park, Woodmere, and the surrounding areas.