Sewage Backup Cleanup Garden City, NY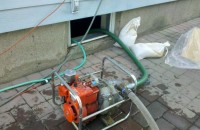 Sewage backup can cause water damage that spreads disease which is why 911 Restoration Long Island and our sewage backup cleanup Garden City experts are available 24/7 so we can quickly perform deadly black water cleanup before family members are directly exposed. Raw sewage contains E Coli and a number of other deadly bacteria and viruses that our sewage backup cleanup services can quickly and safely eradicate restoring health back to your home in no time. Our sewage backup cleanup Garden City experts are passionate about protecting the homes in this special community and we are proud of its history. Garden City holds some prestige as the spot where Charles Lindbergh took off when he went on a transatlantic solo flight and it also has five stations for the Long Island Railroad. We provide exceptional service and work around the clock to ensure that the quality of our work is perfect and reflects the perfection of our amazing village. Knowing who to call when you have a sewage backup emergency is vital to your home and family's well-being, so call us today and let us help!
Who do I call if I have a Sewage Backup Emergency?
When you have a sewage backup emergency call our certified sewage backup Garden City technicians because we respond within 45 minutes of all calls and time is important when you are dealing with sewage backup. When sewage backup causes flooding in your home the longer the flooding goes on, the more damage it can cause – which will cost you more money. So the first step should be to call us, because we work very closely with the village of Garden City  and through years of proving top quality restoration services we have the community's trust in all that we do including:
Sewage backflow valve repairs
Toilet overflow cleanup
Pipe leaks
Septic tank leaks
Contact us first whenever you have a flooding emergency that involves grey water or black water  and we will offer you a cost on sewage backup cleanup that you will love!
How Much does Sewage Backup Cleanup Cost?
When you call our sewage backup cleanup Garden City pros you will be amazed at the low cost we offer our customers on sewage backup cleanup services. We slim down the cost for you, starting with a free inspection and our affordable price guarantee. Furthermore, catching any ruptured hoses or leaks early on can lessen the damage, and that means it will cost you less. Most importantly, you should call us as soon as you notice any problems, that way you can lessen the damage and save money in the long run. Give our sewage backup cleanup Garden City pros a call today and we will even fire your sewage backup claim to your insurance company!
Does Homeowners Insurance Cover Sewage Backup?
According to research compiled by the Insurance Information Institute most homeowner's insurance policies cover water damage from sewage backup so long as no negligence is involved, and our sewage backup cleanup Garden City experts know how to file your claim correctly to get the maximum coverage. At 911 Restoration we always put the customer first and this means we teach the community how to protect their home from insurance claim denial.  Be sure to replace any broken or missing roof shingles, keep your gutters and downspouts cleaned out, and have your plumbing inspected regularly. If you have a water damage problem form sewage backup give our crew members a call today and we will use aggressive restoration techniques and the latest drying technology to restore your home back to normal!