Water Damage and Mold Removal Albertson
As the leading water damage company in the area, our water damage Albertson team with 911 Restoration Long Island have had the pleasure of taking care of the needs of homes and businesses in the beautiful city of Albertson.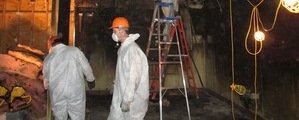 When a water emergency impacts your household, you can call the water damage Albertson agents and we will guarantee to arrive within 45 minutes to provide you with same day services.
With all of our years of experience in the industry, our mold removal Albertson specialists understand how important it is to immediately clean up all water-related problems, which is why our water damage Albertson operation keeps their offices open around the clock, so you can depend on us to be available 24/7/365.
The longer water sits on the surfaces of the home, the more damage it will do to the structure of the home, and our mold removal Albertson pros will do everything in our power  to prevent that.
Our water damage Albertson crew will assist you as fast as we can, so when we arrive on the scene we will conduct a free home inspection in order to figure out the extent of the damage. You can trust that our mold removal Albertson agents work with IICRC certified technicians who use the latest water extraction and drying equipment to remediate the following causes of water damage:
Toilet Overflows

Ruptured Hose Flooding

Pipe Bursts

Sewage Water Overflows

Washing Machine Leakage

Shower Pan Leakage

Home Flooding

Mold and Fungi Infestations

Mildew Growth

Roof and Ceiling Leakage

Water Heater Explosion Floods

Ice Machine Malfunction Leaks
Old plumbing and the winter storms that often hit this part of the country bring lots of water problems. Together with its residents we have enjoyed the town's beautiful terrain and wonderful Clark Botanic Garden. Founded in the 1800's, many of the beautiful properties still have old plumbing that is wearing out and often in need of emergency repair.
If your property is already dealing with a water intrusion of some sort, then don't hesitate to contact our water damage Albertson team. Call our mold removal Albertson staff if you have any questions regarding any type of mold or water issue you may be experiencing, and we will assist you in any way we can.
Water Damage Prevention Measure and Tips
When water invades your home and floods an area, the moisture can seep into other parts of the property, like the under the floor and into the ceiling, which can lead to a mold infestation that will need the attention of our mold removal Albertson team.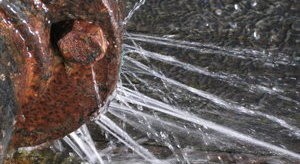 In order to reduce the amount of damage the moisture can implement, our water damage Albertson specialists always arrive to the scene of the disaster ready to get to work.
Our mold removal Albertson pros use comprehensive equipment that allows them to extract all the water, dry the property and clear away all traces of mold and mildew.
Mold usually begins growing when water sits on surfaces for an extended period of time, but when the conditions are right, it can take as little as 24 hours for the process to begin. Luckily, our water damage Albertson agents are trained in mold eradication, and know to look in all those out-of-view places for the substance.
Our water damage Albertson team are contacted all the time to help people eliminate water intrusions when they have already occurred, but our mold removal Albertson crew are also tapped regularly for advice on how to prevent such instances too.
Below are some tips from our water damage Albertson specialists on how to prevent water damage from affecting your home or business:
For a toilet overflow, turn off the water back flow knob located on the water line under the toilet.
For a broken pipe or ruptured hose close the water shut-off valve, which is located outside the building.
If you see any sign of mildew or mold, we should be called immediately.
Lingering can cause severe health problems when spores are spread throughout the building.
Check the basement, doors, windows and other areas on a regular basis to locate possible problem areas.
When contacted, our company has been proud to respond within 45 minutes to any water damage emergency.
When something like this occurs, it is important that you take as many precautions as possible to avoid further damage. With a flood, you will find mud, debris and water stains have usually done significant damage to the area.
Our mold removal Albertson crew uses the latest equipment and materials for water extraction and the latest drying technology. Our water damage Albertson professionals will be able to dry out the area and, with our restoration services, return it to as near its original state as possible, so give us a call today!
Water Damage Restoration Explained
The customer was worried if the water damage would return as the ice dam continued to melt.  Our talented water damage Albertson staff knew that their well-placed work had sealed that port of entry for ice dam melt water, but that the existing moisture could spawn mold.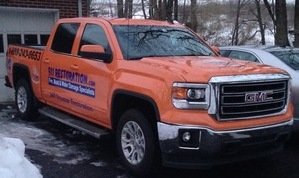 Therefore, they set out to find any leftover dampness. By the time they finished, the basement was completely healthy and ready for guests once again with the added benefit of being ice dam and water damage free.
Our talent with water damage removal services from an ice dam or even a pipe burst that has caused water damage allow us to spot and restore leaks easily. But it is our training that makes our mold removal Albertson pros the best workers to call for an ice dam, pipe burst, or any other water damage means.
Our water damage Albertson technicians are dedicated to the customer, which is why, when a worried father called on his daughters behalf to learn what he could do about her broken gutters, ice dam, and leaking ceiling, he was happy to provide her with our number.
Our mold removal Albertson team holds fast to our same day service principles for ice dams or anything else related to water damage. Upon arrival, our water damage Albertson technicians found the gutters leaking into the house through the ice dam hole created in the ceiling, and it traveled all the way to the basement.
There was a bubble in the living room ceiling where the paint was separating from the drywall due to ever-expanding moisture from the ice dam. Don't let your home or office suffer from a water invasion without help from the best. Contact our water damage Albertson team with 911 Restoration Long Island for immediate relief today!