Water Damage and Mold Removal Bethpage
While you most likely won't come home after a long day at work to find massive flooding incident, the water damage Bethpage team at 911 Restoration Long Island is standing by around the clock to part the waters and make sure that your home is safe and flood free.
Bethpage, New York is a hamlet located within Oyster Bay on Long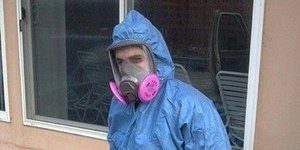 Island. The hamlet's name comes from the biblical village located on the Mount of Olives. Our water damage Bethpage pros pride ourselves on providing the very best water damage restoration and water extractions in the area.
With years of experience, our licensed, bonded and insured mold removal Bethpage technicians work with IICRC certified professionals to handle anything from a pipe burst and rain leaks to a flooded crawlspace and everything in between.
If you notice any water leaking into your home, whether it is coming in through the roof, or from a pipe or the ground, you can depend on our water damage Bethpage unit to patch it up immediately. Our mold removal Bethpage pros are available 24/7/365, so business and homeowners can literally call us any time, day or night. Once you get us on the line, you can expect water damage Bethpage workers to be at your door within 45 minutes or less.
Our water damage Bethpage technicains implement same day services for all water disasters, so we can limit the amount of damage the moisture creates. Our mold removal Bethpage professionals will conduct a free home inspection as soon as we arrive.
So, if your office location or residence is already amid a flooding event of any kind, then contact our water damage Bethpage team with 911 Restoration Long Island for help today!
Explaining How Water Damage Occurs

The cold weather almost always causes pipes to burst, even if you do your absolute best to prevent it. Proper insulation is the key to stopping a burst from ever happening, but if one does happen to occur, the you can count on the water damage Bethpage unit to remediate the entire situation.
Our mold removal Bethpage professionals will check your plumbing and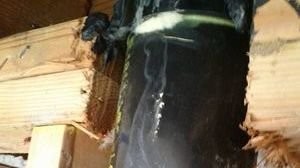 locate any leaks and cracks that may lead to potential leaks, and make all the necessary repairs.
It is our duty to make sure that our water damage Bethpage experts do all we can to leave your home better than it was when we found it, and we take that vow very seriously. If you notice that your pipes are damp, our mold removal Bethpage specialists will provide you with a free home inspection.
There is no set in stone way that water damage happens in a home, and our water damage Bethpage crew has certainly seen a broad range of causes when it comes to water problems. Here are some points to consider on water damage:
Rain leaks and storm damage are common culprits, especially on Long Island.
Plumbing leaks and other internal issues are the other primary cause for concern.
Pipe bursts, water heater leaks, fire sprinkles and toilet overflows are all too common and require fast attention.
We always put the customer first
We are totally dedicated to professionalism
We use only the latest drying technology
Damage gets exponentially worse over time and can invite mold spores, which thrive on excess moisture. After thoroughly drying all flooded surfaces using the latest drying technology, our water damage Bethpage experts can perform a thorough mold inspection and mold remediation.
Don't try to clean mold yourself. This fungi is oftentimes toxic and can cause a host of health problems without the necessary protective gear, so give our mold removal Bethpage professionals a call today!
Preventing Water Damage Is Easy

Our water damage Bethpage team advises that there are many steps you can take to prevent water damage in your home. Make sure your gutters and downspouts are free of debris.
Blocks can result in damage occurring to your roof that allows leaks from

excess water weight during storms or heavy rain. Inside your home, routinely check common windows for any leak that might occur.
Condensation is common, but if there is excess moisture at all times, a leak might be the culprit. Replacing a worn hose before a leak occurs can save you a lot of time and trouble in the long run. Weather stripping and other seals can be put in place to ensure that water stays outside where it belongs. Inspect pipes and hoses on appliances that use water and replace any that are worn or corroded.
When you hire our water damage Bethpage pros, you can rest assured knowing that you have hired the most capable hands for the job. Our mold removal Bethpage techs are qualified to assist you with all aspects of the mold and flood damage eradication process.
This includes the insurance paperwork. Our water damage Bethpage crew has many years of experience working with insurance companies, so our mold removal Bethpage team knows exactly what information they need to get you the best coverage. It is our goal to always keep your out of pocket expenses low, so, along with working with all insurance providers, our water damage Bethpage staff also consistently offers the most affordable prices in the business.
Don't let your home or office location suffer through a water invasion without help from the best. Contact our water damage Bethpage team with 911 Restoration Long Island for immediate help today!