Water Damage Centereach, NY
Our trained water damage Centereach professionals with 911 Restoration Long Island prevent invading water from infiltrating and getting absorbed into the important materials of your home.
Our water damage Centereach team has over 35 years of experience as industry leaders in water damage restoration solutions and can resolve any water removal problem with ease, including:
Pipe bursts
Pipe freezes
Water heater problems
Roof leaks
Flooded crawlspaces
Toilet overflow
Mold infestation
Water damage can take on many different forms and is caused by a wide variety of problems, both indoor and outdoor, but regardless of the source, fast action is necessary.
Our water damage Centereach experts react quickly to all emergency calls in the area because once water penetrates drywall, ceilings, floors and other structures of your home, all sorts of complications can occur.
The last two in particular are problematic if not immediately addressed quickly and properly because both pose a black water issue, which involves water containing bacteria that is harmful to humans.
At 911 Restoration we truly care about your health as well as your home so don't wait for mold spores to grow and cause harm, call our water damage Centereach team today!
Water Damage Causes Massive Mold Outbreaks

Flash floods, water heater leaks, ruptured hoses, washer bursts, pipe bursts, poor plumbing and even fire sprinklers can all lead to significant water damage that if left untreated for a period of 24-48 will almost always grow mold, according to our water damage Centereach experts.
Some types of water emergencies such as a toilet overflow can leave your home filled with dangerous sewage and black water, exposing you and your family to health problems like:
Itchy skin
Allergies
Asthma
Disease
Trouble breathing
Stuffy nose
Sore throat
Additionally, all forms of water damage are also capable of compromising the structural integrity of your home which could lead to a complete collapse of your property.
Don't let mold growth destroy your investment, call our water damage Centereach team today and we'll come to your home within 45 minutes and provide you with a free inspection.
After we eradicate all mold spores and moisture in the area using the best technology in the business, we'll then move on to helping you file your water damage insurance claim.
We are truly experts at every part of the process, from water restoration service to helping you with insurance coverage questions, so pick up the phone and call our water damage Centereach team today!
Insurance Specifics For Water Damage
According to the Insurance Information Institute water damage that is the result of water originating from an indoor source, such as a water heater leak, is covered by most standard homeowner's insurance plans.
However it is also important to know other factors that go into the decision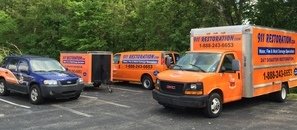 whether to pay on or deny a water damage claim, such as whether or not negligence or a natural disaster was involved.
In those cases, your claim will likely be denied or only minimal coverage will be assessed.
With decades of experience going through the fine details of insurance policies and getting our clients the right coverage for their particular area, our water damage Centereach team can help you and your family with everything.
We will work tirelessly to make sure you get the coverage you deserve while also making sure any non-covered items are provided at the best prices in the industry.
We want to make the process as easy and affordable as possible for our customers at all times because we truly care, so to see exactly what the best looks like call our water damage Centereach team with 911 Restoration Long Island now!