Water Damage Commack NY
According to our certified water damage Commack technicians at 911 Restoration Long Island, many homeowners neglect their plumbing, and considering the local real estate market, local homeowners should be taking every step possible to protect their investment.
Your home is likely your biggest investment, and when it comes to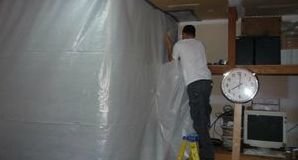 securing its value, you would likely schedule routine maintenance if it meant preventing the pangs of water damage.
Known as a census-designated place, Commack is home to more than 36,000 people, boasting quality private and public schools, a public library and plenty of community activities that bring the town together.
We know that your home's value is steadily going up each year, with the estimated median house value in 2011 rated at $464,371, compared with the rest of New York at only $285,300.
Our water damage restoration specialists take pride in working to protect a community with rising real estate values and as such we are available 24/7/365 to rescue homes and businesses with any pipe burst or storm damage.
Don't let your home succumb to the effects of a flooding event without help from our team of experts. Contact our water damage Commack crew with 911 Restoration Long Island for immediate assistance today!
The Ways Water Damage Happens
Water damage is often the result of floods due to storms and even snow melt-off in the spring. If you live in a flood zone, this issue is compacted with the likelihood of flooding or at least water seepage whenever there's a severe rain storm.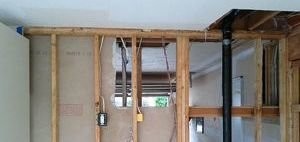 Some crucial points to remember about water damage:
You can mitigate this risk by installing sump pumps in your basement.
Water damage can also occur from washer burst or pipe burst.
These plumbing problems tend to happen when pipes freeze in the winter.
Also when pipes crack they can send water spraying into the room.
Other times, water damage doesn't happen all at once in dramatic flooding fashion.
It may involve seepage, whether coming from outside or from leaky pipes.
This water may accumulate in a corner of your basement or crawlspace, and when this happens you will likely require mold removal services because mold spores easily breed in moist areas that get little sunlight.
This is why calling our water damage Commack team upon first sign of a leak is vital to your home's integrity.
Furthermore, when our 911 Restoration Commack team steps in to perform water removal services we use the latest drying technology to ensure no moisture is left in the concrete, carpets or hardwoods.
Water Damage Restorations Delineated

This one's easy: 911 Restoration has years of experience in the business of providing disaster restoration, water extractions, water removal, drying and sewage clean up.
Choosing a reputable company with a proven track record of quality, skilled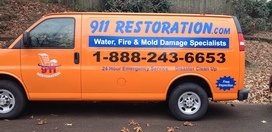 service and one that customers can fit into their budget is key to a successful working relationship.
We are licensed, insured and bonded by the state to offer the best restoration services across the board.
As your premier water damage restoration professionals, you can even lean on our water damage Commack team help filing your claim.
We work with all insurance companies and this is something we have been doing since we first put our "open for business" sign up back in 1978.
We also offer affordable prices, so if you face an out of pocket expense, don't worry!
Finally, we offer a free inspection and we respond within 45 minutes of every call, so call our water damage Commack team with 911 Restoration Long Island without delay today!