Water Damage Farmingdale
Our water damage Farmingdale crews with 911 Restoration Long Island will respond as quickly as we can after receiving your call, because we have been through any kind of water disaster situation before and we know how devastating they can be.
It doesn't matter if your home or business becomes flooded due to a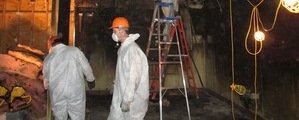 heavy storm or an overflowing toilet, you can call our water damage Farmingdale and our agents will be at your home within 45 minutes to being extracting water and drying the premises. 
Our water damage Farmingdale specialists understand the importance of a speedy recovery when it comes to water situations, so our pros stay available 24/7/365, ensuring that whenever a homeowner calls us, our crews will be there to help.
Our water damage Farmingdale unit have many years of experience in the industry, and know exactly what actions need to be taken to get your home restored, so our operation offers same day services for all water-based situations, including:
Restoration of pipe bursts

Flooded subfloor cleanup

Water extraction in flooded basement

Repair of ruptured washer hose

Fire sprinkler repair

Sanitization after toilet overflow

Water heater leak repair

Comprehensive mold and water damage repair

Mold infestation cleanup

Moldy crawlspace cleanup
Water damage is the intrusion of unwanted water into your home or business location destroying your belongings, valuables, and structure in the process and our water damage Farmingdale pros are standing by around the clock to make sure that his doesn't happen to you.
From the moment our water damage Farmingdale techs arrive on the scene we will begin pumping out the excess water using the most advanced extraction techniques in the industry.
Then we will implement the latest drying technology with air movers and even heaters to make absolutely sure that there is not residual moisture lingering in the cracks and crevices or hiding under soaked floorboards and hardwoods, or even in your once soaked drywall. This helps to ensure that mold doesn't take hold of your living space.
Our workers know how to get your home back on track after it has been affected by a water disaster, so if your home has already gone through a horrific water damage episode and you want to know if your particular crisis will end up causing mold growth, then feel free to contact our water damage Farmingdale specialists with 911 Restoration Long Island today!
Water Damage Can Cause Mold Growth
Water damage Farmingdale experts like the special kind that we employ with 911 Restoration Long Island are fully trained and have decades of experience to know and show that any water damage episode has the strong overt potential to cause mold growth within your home or business.
Despite the unpleasant look of mold, our water damage Farmingdale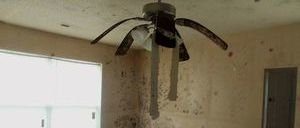 pros want business and homeowners to know that fungi brings with it a host of problems that can affect both the health of your home and your family.
Our water damage Farmingdale crews know that more often than not, mold isn't always visible to the naked eye, and in these cases, there are other signs you should be aware of in order to decipher if you do in fact have an infestation.
If you notice a musty smell when you enter your home or realize you exhibit  allergy-like symptoms, then our water damage Farmingdale unit wants you to understand that you might have mold growing in places that are out of sight. In these instances, it is necessary to call our operation, and our workers will check the property to locate the source of the growth.
Here are some things our water damage Farmingdale specialists want you to remember:
Our water damage Farmingdale specialists realize that there is a lack of quality information out there on the horrors of mold and the symptoms it can cause.
If you happen to be a person with a depressed immune system, or if you are especially young or old, you may be more prone to the effects of mold exposure such as congestion and in some cases respiratory failure.
Our experts know that quick work eliminates most chances of mold and fungus growth.
Our water damage Farmingdale techs are licensed, insured and bonded so that we can deal with any variety of mold or fungus infestation creating a toxic environment within your living spaces.
Should you find that you are breathing in massive amounts of black mold and then you can trust us to provide water damage repair work on your home or business. So, call our water damage Farmingdale members today, and our techs will get your home back to a clean, safe environment for you and your in no time.
Water Damage and Flooding Restoration Experts Always Here For You

Our water damage Farmingdale experts with 911 Restoration are at the top of the industry with so many years of experience and that's what makes us the best water damage restoration company in Long Island.
Another reason we can take the title of the best water damage operation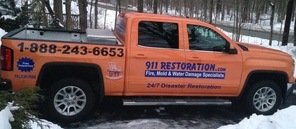 is because we value professionalism to an extraordinary level. This allows us to always put the customer first in every situation that our water damage Farmingdale pros encounter.
In fact, our water damage Farmingdale team members are so totally dedicated that we are always learning about the area and trying to find ways that we can improve our services. As of late we recently learned about the history of Farmingdale so that we can learn from the past to help during events that transpire in the future with water damage.
Just the other day our techs found out that Farmingdale is about as old as the country is itself and this means that there is an increased risk of potential water damage due to the aging infrastructure bringing the precious liquid to and from people's homes and businesses.
But don't worry, our water damage Farmingdale professionals are here around the clock and always ready to take on your emergency for you. This way you can get back to enjoying living in your home instead quickly. Customer service is important to our water damage Farmingdale team, and our staff always have representatives standing by to answer any questions you may have about the fungus extraction procedure.
Our experts understand that being told that you have a mold infestation in your home can be a really scary thing, so our water damage Farmingdale professionals make it their top priority to make you feel calm and comfortable with the eradication process.
By keeping our water damage Farmingdale technicians available to you around the clock, we are able to show you how dedicated we are to the customers. In addition to keeping you calm, cool and collected, our specialists also will provide you with affordable prices on all of our mold, fungus and mildew remediation services.
Should you come to find that your home is inundated with damage from water of any category and you want it removed by the best company there is, then contact our water damage Farmingdale pros with 911 Restoration today!