Water Damage Greenlawn
If your home has recently been inundated with flood waters from a ceiling leak, pipe burst, or any other source, then you need the expertise and skill of our water damage Greenlawn team with 911 Restoration Long Island to take care of it for you today.
When these steps are used, water damage can be prevented. However, when professional restoration services are needed, give us a call for the best service in Greenlawn.
We have years of experience, so the job will be handled well. We are
also licensed, insured & bonded. This matters to our customers.
We are available 24/7/365, and with a response time of within 45 minutes you won't be kept waiting long.
We value professionalism and can work with your insurance company to make things easy on you.
This is why be have so many repeat customers. We pride ourselves on affordable prices, free inspections, and same day service.
High annual rainfall and snow means that many houses in Greenlawn are at risk for water damage from storms in addition to the plumbing issues that plague any homeowner.
Don't let your home fall victim to the effects of a flooding incident without help from the best in the industry. Contact our water damage Greenlawn team with 911 Restoration Long Island for immediate relief today!
Toilet Overflow Advice From Experts
Our expert water damage Greenlawn team of knows that a toilet leak or overflow is a truly common issue that homeowners have to deal with regularly, and this is why we are always at the ready to solve it.
Here are steps to take and information related to overflows:
Our field research tells us that the first thing you should do in one of these problem times is to turn off the water to the toilet.
Then call our professionals at to come and take care of the aftermath.
We will eliminate the grossness and do the repair job for you with total professionalism.
Our specialist water damage Greenlawn expert crews have consulted with the data sourced through the Insurance Information Institute to learn that flooding is the 2nd most frequent form of loss that homeowners claim on their plans.
This unfortunately means that absolutely anyone anywhere whomever they are can become an unsuspecting tragedy of this menace and it's dirty capacity.
In any case, our fungus problem water damage Greenlawn pros are even working with all insurance companies to allow you the most affordable price possible.
If you find that your home has a toilet overflow issue and it has become a dilemma, or also simply if you just merely want to be in congress with what the best restoration company in Greenlawn is ahead of and before any kind of emergency, then definitely look no further and reach out to our pros at 911 Restoration Long Island today!
Preventing Water Damage
Maintaining a healthy roof is highly recommended. Roof leaks can cause damage after storms. Leaks can occur because of deterioration or corrosion, wind damage, and improper installation procedures.
Basic installation problems also involve inefficient flues, vents, air conditioners, and evaporative condensers and coolers. If any of these issues occur, use the proper techniques to patch or fix the problem. In some cases, replacement may be the best option.
Gutters and downspouts also cause damage after a heavy rain. Because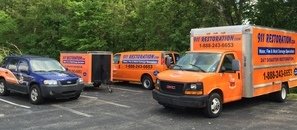 of this, these areas must be kept clean and clutter-free.
The irrigation system must operate properly. Homeowners should inspect the area for an external leak. This kind of leak can waste over 100 gallons of water every day quietly. A pipe burst or damaged water line will waste much more water. This is why professional plumbing services are important.
The windows are another area where water damage can occur. If water damage is an issue, there will be a water stain around the surface, at the bottom of the doors, and on the carpets.
Water damaged carpets will require water removal and clean up services. Glazing, weather stripping, window seals, door seals, and caulk should be repaired or replaced. The exterior siding of the home must be inspected as well for weaknesses.
General appliances can also cause damage. A dishwasher, refrigerator, washing machine, or water heater can leak. To prevent issues with appliances, inspect the seals and hoses often. They should be in efficient working condition.
If your office location or home is already underwater, then don't wait another minute to contact our water damage Greenlawn team with 911 Restoration Long Island for immediate help today!