Water Damage in Long Beach
When you live in an area with extreme weather patterns like Long Beach, it is crucial to have a flood cleanup company standing by around the clock. The heavy storms and intense temperatures cause basement flooding, pipe bursts, and mold infestations. 911 Restoration of Long Island is available 24/7/365 to conduct water damage restoration in Long Beach. Our technicians will respond within 45 minutes of receiving your call, day or night. We offer same-day water removal and drying services to minimize your losses and prevent mold growth. Property owners get free water and mold inspections so we can formulate an estimate of the required restoration services.
911 Restoration of Long Island is locally owned and operated by a team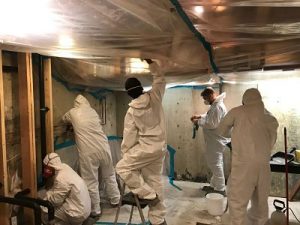 that expertly understands how the regional climate specifically affects homes and businesses in Long Beach.
Our technicians have spent extensive time in the field, so we know how important it is to get to a water damage emergency as quickly as possible.
Our years of experience have given us the confidence and skill set we need to recover your home or business from even the most severe water disaster. 911 Restoration of Long Island employs IICRC certified professionals that have reached the highest standards in the industry.
We train our staff in all water damage restoration services, so you can trust us to help you with a sewage backup, flooded basement, or carpet water damage. Whatever the situation, we will protect you in full with our licensed, bonded, and insured status.
911 Restoration also accepts all insurance and consistently keeps competitively priced services. You can have peace of mind knowing that we provide water and mold remediation at an affordable price. So, call 911 Restoration of Long Island today for speedy water extractions from a reliable flood cleanup company.
Annual Plumbing Maintenance Will Save You Time and Money
During the winter season, the freezing temperatures can cause pipe bursts that can lead to a flooded basement. When pipes freeze, the water inside expands, causing the metal to burst.
The basement flooding that takes place after a pipe burst can be disastrous to a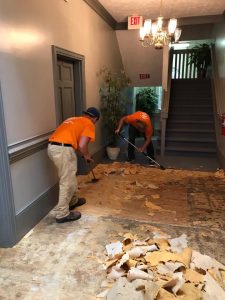 home or business, so taking preventative measures is necessary to protect your property.
We want you to know that you are our top priority, which is why 911 Restoration of Long Island does everything to maintain an honest, trustworthy relationship. While we are able to provide flood cleanup in Long Beach, we also want to offer advice on how to protect yourself from a water damage emergency.
Maintaining your plumbing system will save you thousands of dollars in renovation costs. To guard against such a disaster, our experts have some advice on how to thaw your pipes if they freeze.
Before thawing the pipes, stop the water flow throughout the property by shutting off the main water line. You should then open up all the faucets that connect to the pipes to release the pressure in the plumbing system before turning the water back on.
Begin heating the pipes from the interior faucet and work toward the coldest end of the pipe. Use a hairdryer, heat lamp, or space heater to remove frost slowly. Once you thaw the pipes, you should inspect them thoroughly for cracks. You can test for hidden leaks by turning off the water line and checking the water meter for any activity.
By taking these plumbing precautions, you will significantly minimize your chances of experiencing an indoor flood or water leak. However, even the most attentive property owners need professional help at some point or another.
When you notice leaky pipes, water stains, rust, or even mold, call 911 Restoration of Long Island for expert water damage restoration today!
Full-Service Water Damage Restoration Includes Customer Care
911 Restoration of Long Island wants you to feel like you are the main priority of our staff. We always make sure to put you first, taking care to answer questions and provide detailed information regarding the water restoration.
We always maintain professionalism on every job and vow to treat your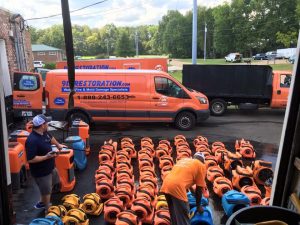 property as if it were our own. Our technicians understand the challenges of receiving water damage restoration, and we aim to make the experiences as positive as possible.
To make the recovery process easy on you, we offer competitive prices and work with will all major insurance companies. Our specialists will handle all the steps of the insurance process, including filing paperwork and communicating with representatives.
If you have never had to file a claim for leak repairs or flood cleanup services, we will provide you with a free insurance consultation. By having our professionals go over your policy, you will completely understand the coverage you are entitled to receive.
Our technicians will help you get that financial help by assisting you with gathering information. The more details your insurance provider receives, the better the coverage. We will help you take inventory of your losses to submit with your insurance claim.
So, call 911 Restoration of Long Island the moment you have questions regarding water mitigation, mold removal, insurance, or any aspect of the water restoration process. We will show you that a Fresh Start is possible today!
Servicing the cities of Albertson, Amityville, Atlantic Beach, Babylon, Baldwin, Bay Shore, Bayville, Bellmore, Bethpage, Bohemia, Brentwood, Brightwaters, Brookville, Carle Place, Cedarhurst, Centereach, Centerport, Central Islip, Cold Spring Harbor, Commack, Copiague, Deer Park, Dix Hills, East Farmingdale, East Garden City, East Islip, East Massapequa, East Meadow,, East Northport, East Norwich, East Rockaway, Elmont, Farmingdale, Floral Park, Franklin Square, Freeport, Garden City, Glen Cove, Glen Head, Glenwood Landing, Great Neck, Greenlawn, Greenvale, Hauppauge, Hempstead, Hewlett, Hicksville, Holbrook, Huntington, Inwood, Island Park, Islandia, Islip, Islip Terrace, Jericho, Kings Park, Lake Grove, Lake Ronkonkoma, Laurel Hollow, Lawrence, Levittown, Lindenhurst, Locust Valley, Long Beach, Long Island, Lynbrook, Malverne, Manhasset, Massapequa, Massapequa Park, Melville, Merrick, Mill Neck, Mineola, Mt. Sinai, Nesconset, New Cassel, New Hyde Park, North Babylon, North Massapequa, Northport, Oakdale, Oceanside, Old Bethpage, Old Westbury, Oyster Bay, Patchogue, Plainview, Point Lookout, Port Washington, Rockville Center, Ronkonkoma, Roosevelt Roslyn, Roslyn Heights, Salisbury, Sayville, Sea Cliff, Seaford, Smithtown, Sound Beach, South Farmingdale, South Huntington, St. James, Stony Brook, Syosset, Uniondale, Valley Stream, Wantagh, West Hempstead, Westbury, Williston Park, Woodmere, and the surrounding areas.