Water Damage Oyster Bay
If water floods your living space, homeowners can trust the water damage Oyster Bay operation at 911 Restoration of Long Island to extract the water and thoroughly dry your living space.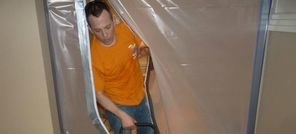 We never want to make you wait long for assistance when water is involved, so we are available 24/7/365 in order to be there for you around the clock.
No matter what time your water disaster occurs, our water damage Oyster Bay workers guarantee to arrive within 45 minutes, ensuring that you get the quickest assistance possible.
Water is a powerful element that has the potential to cause extensive damage in your household.
If moisture sits on the property it can cause mold to grow and rot to set in, so offer immediate services for every job we are called to remediate.
Our water damage Oyster Bay professionals use state of the art equipment, such as sump pumps, wet vacs and air movers, that quickly get your home dry. Call us as soon as you notice any signs of water damage, and we will conduct a free home inspection as soon as we arrive on your property.
Our Experts Are Trained In Extensive Water Damage Restoration
Once water has flooded your home's interior, our water damage Oyster Bay team begin mitigation procedures the day they arrive. We have professional grade sump pumps, air movers, wet vacuums, air purifiers and dehumidifiers that thoroughly remove all the excess water and moisture from the home, leaving it as dry as possible.
Our water damage Oyster Bay staff use comprehensive techniques and skills to repair all causes of water damage, as well as any side effects that the moisture may cause, such as:
Home Flooding

Pipe Burst

Roof and Ceiling Leak

Washing Machine Leakage

Water Heater Explosions

Fire Sprinkler Damage

Main Water Line Leaks

Ruptured Hoses

Toilet Overflow

Leaky Shower Pan

Ice Machine Malfunction Leak
So, call our water damage Oyster Bay technicians and you can relax as soon as arrive and let us do all the work to get your home back on track today!
Our Water Damage Pros Always Put Their Customers First
Making you feel comfortable with the renovation work is our main focus, and when our water damage Oyster Bay agents arrive, we will immediately let you know that we have the situation under control.

Reassuring you as soon as we arrive on the scene, is important to make homeowners feel comfortable with all the work that is going to be done to their home, limiting any confusion once the process begins.
This assistance also applies to the financial side of things. Our water damage Oyster Bay specialists will file your insurance claim for you, that way you have the best chances at getting full coverage.
On top of working with insurance companies, we also offer affordable prices on all of our services, further reassuring the customer of our dedication.
Call our water damage Oyster Bay pros at 911 Restoration of Long Island when you need the most capable water damage remediation services in the industry, and we will give you a fresh start today!