Water Damage Roslyn
911 Restoration Long Island can expertly take care of the water damage Roslyn residents experience. Roslyn has an annual rainfall of around 49 inches. That is slightly higher than the average amount of rain for the United States.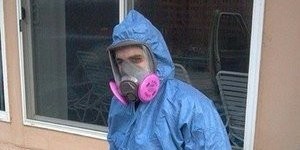 Our water damage Roslyn technicians are ready to handle any type of water problem that comes from excessive rainfall or any other situation.
We believe in professionalism and always offering excellent customer services.
We can help customers in this area with all of their restoration needs.
To prevent serious water damage from occurring, you may want to periodically check for leaks in your home. Look underneath your sinks, behind your water heater, and around your toilet for leaks.
If you notice any water, be sure to have your pipes or appliances repaired before a larger problem occurs.
You can also check your windows and doors to make sure that rain is not slipping into your home after a storm. You want to be sure that everything is properly sealed because any moisture in your home can lead to mold.
Flooding Restoration Specifics
911 Restoration has over 35 years of experience in the disaster restoration industry. We have helped many customers after floods. Sometimes serious storms can cause roof damage that allows rain to pour into your home.
Here are some important points to remember:
We are ready to handle ruptured hoses and much more.
Your carpets, furniture, and other possessions can quickly get ruined by water if it is not quickly stopped.
We can come into your home and extract water fast.
We have the right equipment needed to pump water out of your home.
We use the latest drying technology to make sure that all moisture is completely gone.
We are ready to work fast to minimize the damage that comes from plumbing leaks and water line problems.
Our water removal services are very dependable and we always offer same day services.
Every member of our team is insured, licensed, and bonded. We hire only the best technicians, so you can trust that we will be able to take care of your water damage repair services with ease.
If you have a toilet overflow problem or a pipe burst calamity, or even a major flood, then contact our water damage Roslyn team with 911 Restoration Long Island today!
The Customer Comes First For All Flooding Situations
We believe in offering affordable prices to each and every one of customers. Once you contact 911 Restoration, we will quickly send qualified water damage Roslyn technicians to your location.

Our well trained staff members will inspect your home to find out where your water problems are coming from.
This inspection will be free, and you are no under no obligation to use our services. We always take pride in offering fair prices, and we work with all insurance companies.
Our water damage Roslyn team can be at your property within 45 minutes or less, ready to help you at any hour of the day or night, seven days a week.
The sooner we start cleaning and drying your home the better, so call our water damage Roslyn team with 911 Restoration Long Island at the first sign of water damage in your home and we'll be there immediately today!