Water Damage Stony Brook
Water damage must be treated right away or structural damage can set into your home which is why 911 Restoration Long Island offers same day service and our water damage Stony Brook company is available 24/7/365 ready to perform the most comprehensive water extractions with no notice.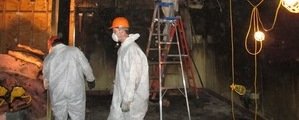 The majority of water damage scenarios that strike our local area include various plumbing and weather-related disasters, and we are licensed, insured and bonded to perform water damage restoration services for every type of disaster known to strike the Stony Brook area.
Our 911 Restoration professionals feel a great degree of pride when it comes to looking after the safety of local homes and business in this special community we love.
Located on the North Shore of Long Island, our special hamlet was known as a resort town and latter bloomed into one of Long Island's more famous tourist towns and centers for education.
Knowing who to call for household water damage is paramount to the integrity of your home; you deserve the best so call us today for any problem of any size!
Call Us Household Water Damage
When you have household water damage you should call our certified water damage Stony Brook team right away before the destruction of your carpets, hardwoods, and walls grow worse. Careful research and studies have shown that damage to your home's constructional materials can set in within a matter of minutes.
We respond within 45 minutes of every call and come equipped with a full arsenal of parts and tools to get the job done right.
We also use the latest drying technology that can penetrate deep into your home and remove every last drop of moisture. Some of the many situations we deal with include:
Toilet overflow
Basement floods
Water line breaks
Mold remediation
Water heater problems
Ruptured hoses
Rain leaks
Damage from storms
Sewage backup
Fire sprinkler malfunctions
Our water damage Stony Brook professionals have all the training, credentials and exceptional customer service skills to offer the best service in the industry.
Furthermore, working with all insurance companies is something we have proudly done since day one so we can ensure each customer is offered an affordable price. Give our water damage Stony Brook pros a call today and let us file your water damage insurance claim for you!
Water Damage Experts At Your Service
When it comes to the best water damage company, 911 Restoration is the answer because our water damage Stony Brook team is rated best in Long Island.

We value professionalism and we always put the customer first in everything we do without compromise.
In addition we love the Hamlet of Stony Brook and its citizens, historic grounds, and stunning natural landscape.
With all the tourists who pass in and stimulate our local economy keeping up appearances is important in Stony Brook, and this means our water damage technicians strive to perform the highest quality restoration services so that our work will reflect the pristine brilliance of our community.
We take great pride in performing water removal services within this fine area and when we leave a job we know we made a difference in our community.
Don't let your home fall prey to the pangs of household flooding. Call our water damage Stony Brook experts with 911 Restoration Long Island and let us restore your home to something better today!