Water Damage in Valley Stream
Living in Valley Stream comes with its fair share of water damage challenges. Between property wear and tear and severe weather, the opportunity for leaks and floods to infiltrate your home or business is high. When confronted by pipe bursts, basement flooding, and storm emergencies, it is crucial to have a dependable flood cleanup company standing by. 911 Restoration of Long Island is the restoration company you can trust to conduct water damage restoration in Valley Stream the minute you need help. Our technicians are available 24/7/365 and guarantee to arrive within 45 minutes of receiving your call to start the water removal and drying process. We are committed to providing same-day flood cleanup services to minimize water damage and prevent mold growth.
Valley Stream's humid subtropical climate creates substantial precipitation and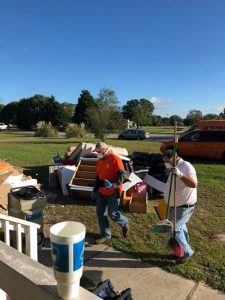 humidity throughout the year. This moisture-rich environment puts homes and businesses at risk of experiencing extensive water damage and mold.
911 Restoration of Long Island specializes in both water damage restoration and mold remediation. These issues are typically found together in Valley Steam due to the regional climate.
As a locally owned and operated restoration company, our technicians are experts at mitigating the specific issues created by the seasonal weather patterns. You can trust that we will successfully combat problems caused by thunderstorms, hurricanes, and flash flooding.
On top of employing trained, experienced technicians, 911 Restoration of Long Island works with IICRC certified professionals that have reached the highest standards in the industry as set by the Institute of Inspection, Restoration, and Cleaning.
There isn't a water damage situation that we can't handle. Our technicians always act with total professionalism and a skill set that only comes with years of experience in the industry.
You can have complete confidence that we will keep you safe under all circumstances. Our entire restoration company is licensed, bonded, and insured for your protection. So, call 911 Restoration of Long Island to receive help from a team that cares and understands what you need today!
Roof Maintenance is Essential to Preventing Water Damage
Your roof is the first line of defense against elements that can have a profound impact on your property. If there are cracks in the roof or broken shingles, then rain, snow, ice, and wind can cause indoor water damage.
While 911 Restoration of Long Island is available to provide leak repairs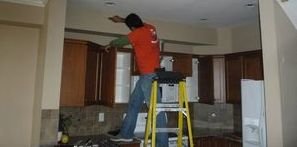 and flood cleanup in Valley Stream, we still want you to know how to protect yourself throughout the year.
It would help if you regularly cleaned out your gutters and downspouts. By keeping the drainage system free of debris, water will run off the roof correctly, instead of seeping back into the property.
Make sure you point your downspout at least five feet away from your property's foundation to stop rainfall and snowmelt from impacting the structural integrity of your home or business.
Proper attic insulation is also critical to water damage prevention, especially during the winter months. Irregular insulation will cause snow to melt in the middle of the roof and slide down to the eaves, where it can create an ice dam.
Once an ice dam forms, snowmelt will continue to backup behind the icicles and leak into the property. You can prevent these types of water leaks by making sure your attic insulation is consistent throughout the entire length of the roof.
Our entire staff at 911 Restoration of Long Island wants you and your family to be safe and secure in your property. We are ready to provide water damage restoration on a moment's notice, regardless of the time.
Do not hesitate to call our technicians when you notice a ceiling leak, flooded basement, or any kind of water damage. We will conduct emergency water removal, drying services, and structural repairs to ensure your property can withstand the storm season.
Customer Service is a Critical Part of Water Damage Restoration
Over the years, our technicians have seen all kinds of water damage issues. We realize the challenges presented by these situations, not only regarding the restoration work but for you and your family, as well.
Whether you're dealing with minor carpet water damage or extensive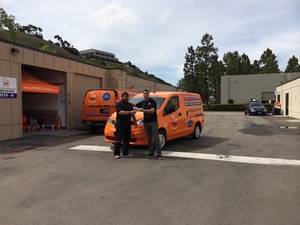 basement flooding, the disruption to your life feels significant. 911 Restoration of Long Island is here to give you peace of mind with professionalism and care.
Customer service is an essential part of water restoration. Our staff will guide you through the recovery process, ensuring that you are comfortable every step of the way.
If you have questions regarding the water cleanup cost or insurance logistics, you can reach out to our staff members and expect to receive immediate answers.
Our technicians aim to put your mind at ease by giving you as much information as possible. We realize the financial aspect of the water damage restoration is an integral part of the entire ordeal. While we are known for our competitively priced services, 911 Restoration also accepts all types of insurance.
You will receive a free insurance consultation to make sure you fluently understand your policy and the coverage you are entitled to receive. We will not only file your claim for you, but our onsite technicians will help you take inventory of your losses.
By sending your insurance provider a detailed list of the damages to both your property and belongings, you will have the best chances of receiving optimal coverage from your insurance company.
Call 911 Restoration of Long Island when you have questions regarding flood cleanup, water mitigation, mold removal, insurance claims, or any other aspect of the water restoration process. We will show you that a Fresh Start is possible today!
Servicing the cities of Albertson, Amityville, Atlantic Beach, Babylon, Baldwin, Bay Shore, Bayville, Bellmore, Bethpage, Bohemia, Brentwood, Brightwaters, Brookville, Carle Place, Cedarhurst, Centereach, Centerport, Central Islip, Cold Spring Harbor, Commack, Copiague, Deer Park, Dix Hills, East Farmingdale, East Garden City, East Islip, East Massapequa, East Meadow,, East Northport, East Norwich, East Rockaway, Elmont, Farmingdale, Floral Park, Franklin Square, Freeport, Garden City, Glen Cove, Glen Head, Glenwood Landing, Great Neck, Greenlawn, Greenvale, Hauppauge, Hempstead, Hewlett, Hicksville, Holbrook, Huntington, Inwood, Island Park, Islandia, Islip, Islip Terrace, Jericho, Kings Park, Lake Grove, Lake Ronkonkoma, Laurel Hollow, Lawrence, Levittown, Lindenhurst, Locust Valley, Long Beach, Long Island, Lynbrook, Malverne, Manhasset, Massapequa, Massapequa Park, Melville, Merrick, Mill Neck, Mineola, Mt. Sinai, Nesconset, New Cassel, New Hyde Park, North Babylon, North Massapequa, Northport, Oakdale, Oceanside, Old Bethpage, Old Westbury, Oyster Bay, Patchogue, Plainview, Point Lookout, Port Washington, Rockville Center, Ronkonkoma, Roosevelt Roslyn, Roslyn Heights, Salisbury, Sayville, Sea Cliff, Seaford, Smithtown, Sound Beach, South Farmingdale, South Huntington, St. James, Stony Brook, Syosset, Uniondale, Valley Stream, Wantagh, West Hempstead, Westbury, Williston Park, Woodmere, and the surrounding areas.