Water Damage Woodbury
Your home can undergo a flooding situation easier than you may realize, which is why our water damage Woodbury techs at 911 Restoration Long Island are available 24/7/365 to assist you when you find yourself ankle deep in floodwater.
You can trust us to implement proper same day services for all water-based disasters, such as:
Burst Pipes

Washing machine overflow

Ruptured hoses

Leaky shower pan

Ice machine Malfunction

Flooding

Roof leaks

Sewage backups

Appliance malfunction

Water heater explosions
 Our licensed, bonded and insured water damage Woodbury professionals use top of the line gear to pump out water and thoroughly dry the area, as well as repair any damage that has taken place.
Call us the moment you come across any moisture in your household and we will get the process started with a free home inspection.
A Basement Flood Can Happen When You Least Expect It
A flood is the last thing you expect to find when you walk down to your basement to do a load of laundry. We understand how water disasters come at you from left field, but our water damage Woodbury technicians are always prepared, even if you aren't.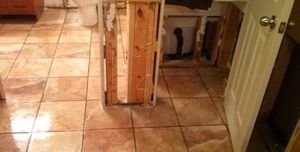 It is imperative to the recovery of your home to receive prompt water extraction services, so our water damage Woodbury experts guarantee an arrival time of within 45 minutes  for all jobs they are called to remediate.
When we arrive on the scene we always come strapped with the most comprehensive and advanced water extracting and drying technology, that way we can get to work as soon as we get on the scene.
Not only is floodwater annoying, but it can also be damaging to the structure of your home, as well as facilitating mold growth.
So, call our water damage Woodbury agents the moment disaster strikes, and we will do whatever it takes to get your home back into pristine condition.
We Will Keep You And Your Home In Tact After A Flood
Discovering that your property has become inundated with water will immediately affect your mental state, especially when you start realizing all of the steps that need to be taken in order to get your home back on track.

As overwhelming as this can be, the good news is that instead if being forced to deal with this on your own, all you need to do is call our water damage Woodbury team and they will do everything for you.
We will pump out the water, dry the area, repair any damage and even conduct a free visual mold inspection. It is important to us to cover all our bases to be absolutely sure that there is no chance of permanent damage.
Not only will be get your home up and running again, but we will even file your insurance claim for you.
Our water damage Woodbury staff will literally do all the work for you, that way all you have to focus on is taking care of your personal wellbeing.
Call our water damage Woodbury team with 911 Restoration Long Island as soon as you find invading floodwaters in your household, and then sit back and relax as we take care of the rest for you today!