Can Snow Cause Flooding?
If you're a homeowner or a business owner, you know how devastating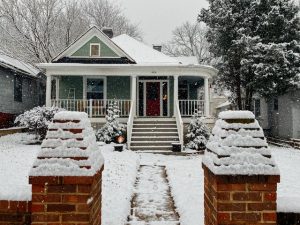 flood and water damage can be to your property. The risk of flooding in your neighborhood increases in winter when it snows and is problematic for everyone. Hence, you need to understand how snow can result in flooding, how to prevent it, and how to deal with water damage and flooding in emergency cases.
Take precautions to minimize the probability of flooding before it becomes a problem. Choose locations with the least risk of flooding to avoid the risks and costs associated with flooding and water damage.
Unfortunately, even standard preventive methods can't always protect against snowmelt flooding, especially during snowy winters. If you're worried about the excessive snow around your neighborhood, 911 Restoration can help you. This article has everything you need to know about flooding from snowmelt and when to call for help.
What Is Snow Melt and How Does It Cause Flooding?
Runoff water occurs as a result of melting ice and fallen snow. Flooding by melting snow can be caused in two ways: directly and by raising levels of nearby water bodies. Firstly, if you have a significant amount of snow around your home or in your neighborhood, warmer temperatures close to the spring season can cause ice and snow to melt. This melting leads to flooding in your basement, streets, and fields, or nearby water bodies. Snow and ice build-up in yards on rooftops in ice dams and elsewhere around houses can move running water quickly when temperatures drop.
Secondly, in hilly areas and mountains, rising temperatures can cause snow tops and glaciers to melt, causing the water to reach nearby streams and rivers, resulting in an overflow of water bodies. This overflow causes flooding in nearby areas and causes a lot of water damage. In this case, when buying or constructing a home in such a dangerous place, think about all the costs of water damage before you do.
How to Prevent Basement Flooding From Snowmelt
To prevent flooding,  ensure that you're not building your property close to areas near hills or mountains prone to flooding due to snowmelt. Carry out some research and find out the weather conditions and risks before you move to a new place.
However, if you already live in areas where it snows severely, flooding from snowmelt can be very dangerous to residential and commercial buildings. Most commonly, when areas flood due to snow, it damages the building's basements. While you can't completely prevent snow from melting and causing a flood, here is how you can ensure to keep snow and ice away from the foundation of the property.
First and foremost, use a shovel to clear an area of 5 feet or more around your building's foundation. Don't let snow stack up because it can seep in, causing basement flooding quickly.
Ensure your sump pump is working correctly and maintained regularly to prevent water damage due to flooding in your basement. A sump pump works by removing water from your basement and forces it out into a draining space to avoid flooding and the damages that come with it.
Ensure there are no cracks or openings in the corners of your foundation's wall. Fix the gaps before it starts snowing, protecting your foundation from snow and ice water rushing in.
Your roof, ice dams, and overhangs collect most snow and ice. When temperatures rise, frozen substances melt, causing runoff right above your property's foundation. Clear off the snow to stop the threat.
The last preventative step is to ensure that downspouts drain 20-30 feet away from your property; this will help prevent water from seeping in below.
Types of Damage That Flooding Can Cause
If the snow has already started melting and you've been experiencing moisture levels rise from snowmelt, don't ignore the issues. This ignorance could lead to further damage. Inspect your home for these two common damages that occur because of flooding.
Water damage can cause structural damage to your property. If walls are left wet for too long, they can weaken and crack; in severe cases, they can even collapse. Look for water damage around the walls to catch and treat it before it causes irreparable damage.
In addition, prolonging treatment of water damage could lead to mold growth on walls and upholstery. Mold damage is hazardous to health, especially those with existing respiratory diseases and a weak immune system. If you spot mold patches in the basement, call 911 Restoration within 48 hours to remediate mold damage.
Dealing With Flooding Due to Snowmelt
Don't ignore if melting snow is causing damage to your property, it won't go away on its own! If you're looking for a reputable restoration company in Long Island for help, 911 Restoration offers their services within 45 minutes any day of the week, 24/7. We are reliable and have the expertise and professionals to deal with flooding and damages caused by it. Contact us now at (516) 206-4420 for our remediation services.