Long Island Mold Removal: Mold Spores and Remediation Wars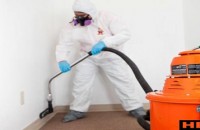 A mold infestation growing on your wall is as pleasant as facing Nicole "Snooki" Polizzi across the dinner table. Not only is mold hideous and aesthetically revolting; it is toxic and can make your entire family ill. If you have a mold problem it is vital to call a mold remediation company to come out and remove the fungus infestation from the sanctity of your home. But restoration companies have been seeing an increase in responding to calls where the homeowner first tried doing the job himself, only to make matters worse.
Is Mold Removal a Do-It-Yourself Job?
Under no circumstance should you try to remove mold yourself. According to the United Stated Environmental Protection Agency, mold removal could be self-performed if the moldy area is smaller than 10 square feet. But this is not a green light to swing into action and remove the mold yourself if in fact you want a 100 percent guarantee that your home and family are safe from exposure to high toxicity levels. Remember, mold spores are airborne and they are invisible to the naked eye until some time has passed and they metamorphose into those visible black spots. Furthermore, you can remove black mold from a surface area but there could be an even larger tumor of mold growing deep within your walls. Only a professional mold removal company initiates the remediation techniques that test for airborne and microscopic spores that can cause people to have congestion, asthma, respiratory problems, and lung disease. In fact, there are even deaths reported every year that are directly linked to mold exposure.
Protect Your Home
Hiring the pros to remove your mold will not only ensure better health for your family, it will also protect your home's structural integrity. Mold grows on surfaces that are organic and sub-organic and it slowly eats away at the materials it clings to like wood, drywall, concrete, tiles, fabric and textiles, and other items. In some cases mold problems have been so severe within walls and floors that a home's resale value has decreased.
But it isn't just the mold itself that hurts the home; human error plays a big role as all too often a homeowner will use harsh chemicals that wind up damaging the walls or that remove paint and damage drywall. In other cases water damage can result from overzealous residents who try washing and scrubbing the mold from their walls. Just ask any professional Long Island water damage restoration company if they have had to perform water extractions and use the latest drying technology to repair the water damage caused by homeowners trying to scrub mold away, and they will concur that it is indeed a common occurrence.
Here are some facts: mold is toxic and dangerous. Mold removal specialists undergo intensive training to pass their certification and licensing exams to fight the black spores, and they use industrial strength products and equipment to rid mold from all homes. If you have a mold problem call a professional that can permanently destroy mold and prove victorious in the remediation wars!