Preventing Mold in Air Ducts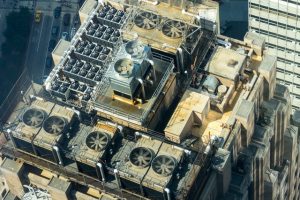 Mold can be seriously hazardous to your health and may cause structural damage to your property if left unaddressed. Since air ducts are one of the most common places mold infestations are found, it's imperative homeowners know how to prevent it.
This blog will teach you just that, along with signs of a mold infestation in the air ducts, so you can keep your property safe.
Smell
Early signs of mold in air ducts include smells coming from air vents. A unique musty kind of smell will start coming from the air ducts. Most of the time, seeing the mold at an early stage is not possible, but you will be able to smell it. Whenever you turn on your AC and can smell the mold, it is a confirmation of the mold presence. As soon as you switch the ac off, the smell will be gone. This tells us that the mold is present in the HVAC system of your house.
Mold smells like wet soil and something rotten as well. This problem mainly comes back over and over after cleaning because the place is dark and has moisture. To avoid mold, the area most particularly has proper ventilation. If the problem persists, you must consult a professional for mold removal.
Mold Visible to Naked Eye
Search for an early presence of mold near AC vents, in the drip pans, and around the air ducts. The drip pans may have mold because condenser coils absorb moisture from the air and drop it into drip pans. At this step, if the drip pans become clogged, it creates an ideal environment for a mold to grow.
Bearing the fact in mind that spores are solely responsible for spreading mold in the environment, spores are invisible to the naked eye. Being invisible to the naked eye, you may sometimes miss out on early mold formation. The naked eye misses the early growth because of the spores' invisibility. Once you start noticing the mold, you must realize that things are now out of your hand, and infestation has grown to the next level, the only people who can help you will be professionals at this stage. You need to rush to professionals to avoid further growth and recursion of mold.
Mold Exposure Symptoms
Mold usually causes allergies among people and animals as well. If people around you and your pets start showing symptoms, it means there is the presence of mold in the air duct. If the mold has grown and is spreading in the air, it may result in multiple symptoms like nausea, irritated nose and throat, headache, or even itchy eyes.
Causes of Mold Growth in Air Ducts
There are mainly two reasons for mold growth in air ducts, the presence of moisture and warm temperature. An ideal environment for mold formation has to be warm and humid. If the climate is humid and there is poor ventilation, moisture can easily be trapped in walls and gives room for condensation. This results in mold formation as such conditions give are ideal for the growth of mold.
What Causes Mold in Air Ducts and How to Prevent It?
Oversized AC Unit
If you have an oversized AC unit for the space you have, it may cause mold in air ducts.
When there is a larger unit adjusted in a smaller place, the unit cools the space very quickly and turns off before dehumidifying the air. This results in excess moisture. This buildup of moisture in rooms and ducts may cause mold. If such is the case as soon as you bought the new unit, please check that you have bought the right size.
Very Low AC Temperature
Setting the AC unit at a very low temperature can sometimes cause mold around the vents. When the cool and warm air meets, it causes extra moisture that creates condensation in and around the air ducts, resulting in mold. This is called temperature differential—a difference of 20 degrees of temperature results in moisture. If the moisture goes unnoticed, it will form mold in the air ducts.
Ducts Leakage
Sometimes the ducts leak and let warm air in. This leakage of ducts causes temperature differential that results in the form of moisture, hence mold formation. In such a scenario, you need detailed cleaning of the duct with remediation. You need to make sure the leakage has been sealed to avoid mold formation in the future.
Professional Mold Removal Services by 911 Restoration of Long Island
A professional mold removal company like 911 Restoration of Long Island knows the nitty-gritty of the situation. They know how to remove mold successfully and then how to prevent reinfestation of the mold.
While cleaning mold, you cannot use regular cleaners and simply scrape the mold off. The regular cleaning products may remove the mold but unsuccessfully enough for its recursion soon.
Trying to clean the air duct yourself, you will end up damaging the air ducts and rather cause a leakage. Get in touch with 911 Restoration of Long Island to effectively get your air ducts cleaned thoroughly. They have experienced and trained technicians that know the HVAC system inside and out and do complete justice to the job. Contact them now and schedule an appointment.