Water Restoration: Equipment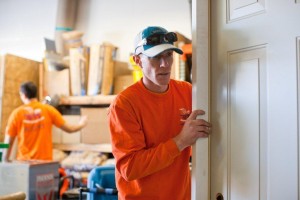 Water damage is insidious and the damage can be devastating. Mold, weakened foundation, wood-rot and discoloration are just some of the side effects of water damage. Fortunately, water damage restoration equipment is available.
Personal protection equipment like safety glasses, respirators, plastic gloves, coveralls and boot covers are safety necessities. Water damage cleanup is dangerous. Mold can begin to grow within 24 hours and even if the water looks clean, it may be contaminated by sewage and household chemicals.
Equipment like air scrubbers, dehumidifiers and air movers will assist in drying and ensure that any air-born particulate doesn't end up in your lungs. You can power these and the rest of the tools you will need with a portable generator.
Once you are protected, the next step is water removal. A sump pump is ideal for removing standing water from a home and a quality wet vacuum will remove water from your carpets, couches, bedding and other fabrics.
After the standing water is removed you can use specialized heaters, air conditioners and odor control equipment to shorten drying time.
With the right water damage restoration equipment or a specialized water restoration service, your home will be back to its former glory in no time!