Mold Removal
When the people of Long Island have a challenging mold removal issue, they count on co-owners Eli Elfasi and Daniel Gradus of 911 Restoration Long Island to help them remediate the situation quickly, safely and to the highest of industry standards.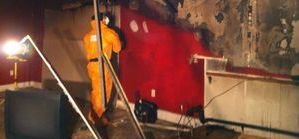 Mold removal involves disturbing colonies of black mold spores that can then become airborne and float to different locations within your home where they can take hold and form new infestations.
"Mold has been on earth forever and it will continue to invade places that it shouldn't unless you take the proper precautions after a flood or even a small spill," Eli says.
Eliminating mold spores and fungus from homes after a water damage event takes quick action because mold can spread rapidly and take hold with ease.
Eli and Daniel can arrive within 45 minutes of an emergency mold removal call so that they can get straight to the nature of the problem and stop it in its tracks.
If your home or business is in need of mold removal services, then don't hesitate for a second to contact Eli or Daniel and their specialized mold remediation staff with 911 Restoration Long Island today!
Fungus Prevention Tips and Tricks
With all of his expertise in the field, and all the advanced technology that there is in the industry, Eli and his crews have determined that the best way to prevent mold is to prevent a situation in which it can grow.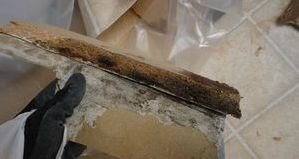 Here are some important points to remember:
"More often than not, people find mold growing in areas where they had a spill or small flood that they thought was properly cleaned up at the time, but in fact was not," Daniel explains.
The best way to prevent mold growth is to prevent water damage in the first place.This tends to involve heavy cleaning after a flood or spill and that's why it is always best to contact a restoration professional for the right tools and techniques.
"Bleach is your friend when you have a toilet overflow, water heater failure or any other kind of major water damage situation," Eli says.
Mold removal after it has grown is not an easy process and requires trained and certified professionals to be done safely and securely.
Don't let a water damage event create the need for mold removal in your home. Contact Eli and this pros with 911 Restoration Long Island for help now!
Caring is a Part of Mold Restoration
Beyond their abilities with mold removal, Eli and Daniel are also true experts at assuaging the tensions that a mold removal situation can engender as well.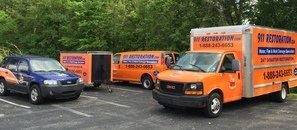 "We don't merely do mold removal and water damage restoration, our primary job is to give people back their peace of mind when a situation like this occurs," Daniel says.
Providing homeowners and businesses alike with mold removal services is a natural part of Eli and Daniel's water removal capabilities because mold usually follows closely on the heels of a flood or other liquid event.
"Honestly, our customers are so important to us that we will even file the insurance paperwork on their behalf," Eli says. "We do this because we believe that people shouldn't have to deal with a mold removal crisis and at the same time have to take on a conversation with their insurance agent."
Don't let the situation get grave enough for serious mold removal needs. Contact Eli and Daniel, along with their mold removal Long Island team with 911 Restoration Long Island for assistance before you start breathing in mold spores and fungus today!