Water Damage Restoration
Water damage restoration is the process undertaken by 911 Restoration Long Island and the specialized technicians who keep the area homes and businesses safe.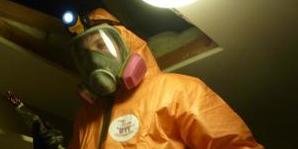 It is vital that professionals handle the water damage job to reduce the challenges of the situation and ensure your home retains its health after an ice dam or pipe burst for years to come.
It can be dangerous to take on water removal from an ice dam yourself. For instance, we had a call from a customer who had recently bought her house, but had ice gathering on her driveway as well as an ice dam on her roof.
In an attempt to remedy the possible water damage disaster, she laid cat litter and sand on the ice so that it would be removed easily. The plan backfired, creating a muddy mess all over her front yard and driveway.
Our ice dam water damage restoration Long Island representatives answered her call and reassured her that we could indeed take care of the original ice dam as well as the icing aftereffects of the sand on her driveway to prevent further water damage.
If your home or store location is already dealing with a water intrusion, then contact our water damage restoration Long Island team with 911 Restoration Long Island today!
Our Owners Will Guide You Through the Flood
Eli Elfasi, owner of 911 Restoration Long Island, responds to every call to scope out the loss. On this one water damage project, he explained how he would have his crews restore the exterior of the property back to the home our customer had intended to buy, and even eliminate ice dams from the roof to prevent increased damage.
Here are some important points to consider: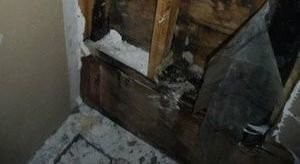 While 911 Restoration Long Island treats all customers like family and respects the home as if it were our own, we also appreciate the need for professionalism.
We are licensed, insured and bonded with certification through the ICIRC to handle any ice dam or pipe burst water damage situation.
With over 35 years of experience taking on ice dams of all sizes, our water damage restoration Long Island operatives are well trained, using industry-leading technology to advance their natural flood recovery talents.
When Eli was called out to a flooded basement water damage event where a bedroom carpet had been drenched. He knew the extent of the water damage emergency.
Responding within 45 minutes of the call, he got to work finding the source of the leak which turned out to be a huge ice dam over the whole house that caused the water damage.
This is where the talent truly came in handy. Being able to pinpoint the water damage source in a matter of minutes is essential to reducing the issues incurred by the ice dam disaster.
Because events like this become more challenging when people unfamiliar with the issue attempt to clean it up, it is vital you hire water damage restoration Long island professionals that have the technology to get the job done fast, the talent to make the property better than it ever was, and the training to safely and effectively restore the building even after an ice dam situation.
Don't let your home or office suffer from an ice dam without help from the best in the industry. Contact our water damage restoration Long Island team with 911 Restoration Long Island for help today!
Trained Water Damage Remediation Experts
We knew how important this water damage job was to the entire family, so we, recalling our vast training, set to clearing the water and fixing the gutters after the ice dam. It did not take us long before the gutters were catching snow again and the bubble had been deflated.
It is our goal in life to provide everyone with a fresh start after such a challenging ice dam experience.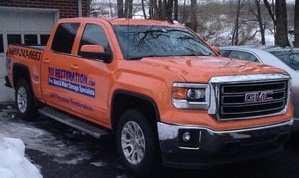 It takes all three of our specialties; talent, training, and technology, to fully restore a property after an ice dam or pipe burst. Each ice dam job comes with a new set of challenges, and each challenge can only be conquered by skilled determination. Winter is a challenging time for homeowners and their properties.
It attacks the shelter from all angles, with roof leaks, pipe bursts, and basement floods. One such call came from an experienced property manager. She had found multiple issues with one of her properties in the form of broken gutters, a cracked foundation, and the smell of mold, all stemming from too much water.
With infrared cameras, the latest drying technology, and full hazmat suits, Eli Elfasi and the 911 Restoration Long Island specialists arrived to remedy the situation. They found the brick and cement building materials were porous enough to sustain water.
Out came the heavy-duty equipment to restore the home to its rightful place on this historical block.
By the time all was said and done, the owner of the property was very grateful to have the building back and with our preventative maintenance it would be safe for years to come.
If your office or home is already dealing with a pipe burst or ceiling leak, then contact our water damage restoration Long Island team with 911 Restoration Long Island for immediate relief today!