Water Damage Restoration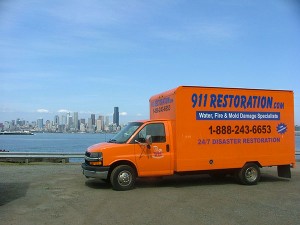 Water damage can strike at any time and cause serious problems for you and your home. Storm floods, plumbing leaks, toilet overflows and ruptured appliance hoses are just some of the many water emergencies that can plague your home. If water damage restoration isn't undertaken quickly things will only get worse. Walls and floors can become weaker, posing a safety risk for you and your family. Moist conditions invite mold growth, posing health concerns for anyone in the house.
At 911 Restoration Long Island, we are standing by 24/7 to provide expert water damage restoration services. Our licensed, insured and bonded technicians can get your life back to normal with comprehensive services that include:
emergency water damage response of 45 minutes or less

free inspection of all damage

leak detection and plumbing repair

complete water extraction using the latest drying technology

professional odor control

mold detection and removal

full structural restoration
Our water damage restoration crews know how to remove all types of water safely and effectively. Gray and black water that come from your appliances and plumbing system are especially serious threats. They are a breeding ground for dangerous bacteria that can seriously impact the health of everyone in the home. Don't try to remove the water yourself. 911 Restoration technicians can remove this water safely and quickly.
Water removal is just the first step in the process. Once the area is completely dry, our team will completely restore every element of your home. Wood floors, cabinets and walls will be returned to their original condition, and the water emergency will be a distant memory in no time.
Our water damage restorations professionals in Long Island have 35 years of experience in flood and water cleanup, and they are here to solve your problems quickly and efficiently. Give us a call today to get started. We know how tough it can be to deal with water and flood damage and we want to help.